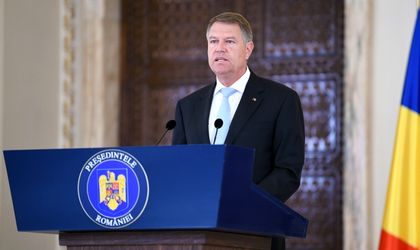 President Klaus Iohannis stated today that Romania will continue to place a special focus on strengthening the strategic EU-Korea partnership, after meetings with the president of the National Assembly of South Korea, Moon Hee-sang as part of the official's visit to Romania.
According to a statement by the Presidency, Iohannis said the visit has a symbolic charge as it happens in the context of the Romanian Centennial and the 10-year anniversary of the Romania-South Korea strategic partnership. 2018 also marks the anniversary of 55 years since the Korean Republic and the European Union established an official relationship.
Iohannis underlined the special relationship between the two countries as South Korea was the first Asian state to have a strategic partnership with Romania. He also highlighted the fact that the two states share common values and that Romania is decided to act towards the significant development of the bilateral partnership.
"Klaus Iohannis encouraged the exploitation of the bilateral economic cooperation potential, including by attracting new Korean investments on the Romanian market. He also noted the potential of bilateral relations in education, encouraging an improvement of student mobility, starting with the educational offer of Romanian and Korean universities," the statement reads.
President Moon Hee-sang said that Romania is currently one of South Korea's most important strategic partners in Southeastern Europe. He congratulated Romania's progress and its upcoming takeover of the Presidency of the Council of the EU, and also expressed Korea's commitment to increase investments in Romania and further develop trade relations.