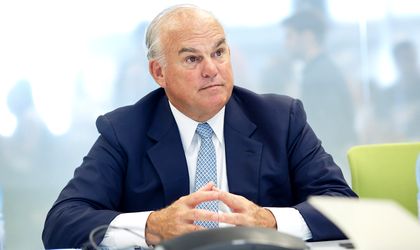 Phil Heasley, president and CEO of ACI Worldwide, the provider of real-time electronic payment and banking solutions, talks about the firm's expansion plans following the relocation of its Timisoara operations into United Business Center 2, Openville Timisoara's mixed-use project. He says that the Romanian office fits in very well with the American roots of the company, which was started in the Midwest.
Have you looked at other cities for expansion, such as Bucharest, Iasi or Cluj-Napoca?
We actually have locations in 55 countries around the world and lots of those are sales offices, but we have several development engineering sites around the world. We tend to pick a university, or two universities clustered in an area, and if we are pleased with our interaction with that university, we will try to build a staff that we think is very maintainable within a municipality, within an area. Once we get to a certain size, we may decide that it doesn't make sense to grow it any further, then we would potentially look at another city or some place like that, but we tend to bring it to critical mass. We are 200 [people] right now; we're going to hire 50 more by the end of the year – we believe. It's quality that comes first, quantity second, and our plans are to be able to expand by probably 80 to 100 more on top of that. We could have as many as 330-350 people here, and then we would go and potentially look at another location, another university relationship to form.
Almost half of our employees here, 100 of the 200, came from internships and that is very important to us, so before we move away from an internship scheme, we grow it as large as it can get.
What vacancies do you have?
Mostly engineering and computer science roles. Our primary (recruitment – e.n) method is through interns. I've watched this group over 11 years from becoming interns, through dating and getting married, to having kids. I've watched this whole thing so we are kind of getting the new generation come behind them. So, mostly interns, but some a couple of the German companies have readjusted their balance and what not, so we do hire people with experience too. We're a little bit fussier on the experience side, because we haven't enculturated them.
Do you have problems finding new people because tech firms are battling for skilled employees in Romania?
I think we pay well, so that hasn't become a big problem for us. That is a global issue (with an insufficient number of engineers – e.n.) and it hasn't been an issue here. We've kept pace. Salaries have grown very nicely over the last ten years, we've tended to grow with them, so it's not a problem yet, but it may very well become a problem.
In what kind of projects is the Timisoara office involved?
ACI basically builds very large financial systems for the largest banks, central governments, and large processors around the world, and we tend to be mostly on the digital real-time side of payments, so e-commerce and very new trends around the world, called immediate payments. If e-commerce can be anywhere in the world you need to have payments move as fast as e-commerce.
So our projects here have been mostly in high-speed switching of payments and in our payment fraud products.
What's your take on fintech? Should banks be afraid?
They should be afraid because – and I used to be a banker – banks often represent the conservative side of society, therefore they want as little change as possible, whereas the fintechs are trying to reinvent the world.
I think what we are going through right now is very similar to what we went through 25-30 years ago when credit cards came in. You know, all the banks tried to make credit cards go away, credit cards became something of an independent industry and the banks went back and bought all the credit card businesses back up again.
I think the same kind of thing is going to happen with this: you are going to get some very good fintech companies that are going to move forward, real-time supporting e-commerce payments, and then they will gradually be absorbed because all payments need to be regulated at some point in time. Governments are better at regulating banks than non-banks, so I believe it will naturally flow into the banking structure. There will be winners and losers.
What's your take on blockchain and bitcoin?
Blockchain is the underlying technology for bitcoin and there are two kinds of systems. There are systems that add up to 100 percent; that is you have your money and you want to make sure that your money is safe, and if you are getting paid interest or charged interest. Those are the systems that add up to 100 percent.
And there are systems that add up to zero. You start with zero, something happens and then you go back to zero. And that's how it is in the payments business: you start with zero, we do the transaction.
Blockchain is actually a very good technology as it relates to that and we're looking at blockchain because at the very end of our payment cycle is settlement and then reconciliation. And blockchain is very good technology towards the end of our cycles, so we are looking at how we would interface with blockchain in intelligent ways.
Have you seen any different payment trends in Eastern European compared to other markets?
I don't think I've seen that much difference. I think innovation comes almost from any corner of the earth. On payments, you need both innovation and critical mass, because for a payment system to work, it has to be accepted in many places. We try to look for all the innovation around the world and we make that a kind of end-point, a place that can enter into the global payments scheme, and if that scheme makes sense, then it can move its way around the world.
I can't think of anything specific to Romania, and there are 4,000 ideas going around the world, out of which only 5 or 10 might get some real critical mass.
Does the Timisoara office stand out in any way compared to other regions?
The ACI company has its roots in the American Midwest and we are also up in the Boston area. Culturally, Romania fits in very well because we are a company that is very family oriented, and we actually encourage husbands and wives to both work for the company, fathers and daughters, mothers and sons. This is a very family-centric part of the world and culturally it fits very well with how we think. If the community has the same values as the company, it makes it easier for the company to operate.
CV Phil Heasley
President and CEO of ACI Worldwide since March 2005, he has more than 30 years of experience in payment systems and financial services. Previously, he was chairman and CEO of Paypower and held executive positions at US Bancport, Citicorp and Visa. Heasley holds an MBA from Bernard Baruch Graduate School of Business and a Bachelor of Arts from Marist College.