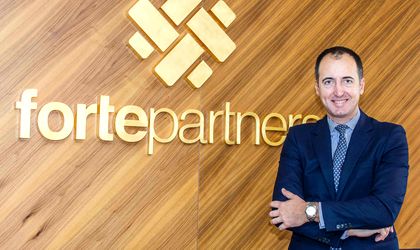 Geo Margescu, founder & CEO of Forte Partners, tells BR that the company's office portfolio is valued at EUR 200 million, with the focus set to remain on the Bucharest market. Margescu says the developer will continue to expand in the residential sector, while in the office segment the firm is looking to invest in the downtown area of the Romanian capital.
What is the current value of Forte Partners' portfolio and what is your strategy going forward, let's say through to 2020?
The portfolio is split between office and residential. In residential, there are ongoing processes. We don't keep apartments on the long term, so on the residential side it's the value of the development, not the portfolio itself. The value of the office portfolio, I think, is somewhere in the range of EUR 200 million, delivered projects, under construction and under permitting.
Is the developer looking to expand outside Bucharest?
Not for the time being. We want to be very focused on the type of development and the area too. Secondary cities in Romania have already experienced local developers and they are doing a great job.
Our main focus is to stay in Bucharest and to develop as well as we can. This is one of our values – a longer commitment with our tenants, our financing banks, with our buyers. We have a long term partnership with Bucharest.
What are the plans for The Bridge office complex following the completion of the first phase?
The first phase of the project is now completed and fully leased. The tenants have already moved into their spaces so they are all starting their activity inside the building. For the second time, after the Stefan cel Mare building, we delivered those spaces exactly on time with not even one day of delay. This is something we are proud of and we would like to continue with this good pace of development, thus keeping our promises to our tenants and financing institutions.
During construction, we decided to start the second phase, which is a slightly smaller building – 21,000 sqm of leasable area – and it will be delivered in January 2019. There is a lot of interest with the first phase being so visible and well received by the market. A lot of tenants were interested in the second phase. No lease agreements have been signed so far, but we are very confident of having the second phase fully leased.
Will you have an anchor tenant for the second phase of The Bridge?
It won't be the same as in phase one, when we signed with BCR very early in the construction phase. We are taking our time; we have several big and good tenants to occupy the building.
How are you financing all these developments?
We always start with our own equity and at a certain moment during construction we sign loan agreements with banks.
On the office segment, are you targeting certain areas in Bucharest?
We make our own opportunities. We are the first to deliver in the center-west of Bucharest and we would also like to do so with downtown. There aren't many constructions downtown and one has to be very daring when starting a construction in such a historical area from the perspective of permits, architecture and construction.
We have a big interest in downtown locations and Matei Millo is one of them. We would like to develop a landmark building there.
What are the advantages and challenges of delivering a project in downtown Bucharest?
First of all, there are not that many plots of land and there is a lot of demand for downtown locations. It is, of course, the proximity to all the facilities, all the amenities of a downtown location, the connectivity with the metro, bus lines, all the public transportation in general. So, if you find a downtown location you are able to build on, then the project is pretty much half way to success. It's not easy to build downtown; responsibility must be assumed when delivering such a building in a historical location, especially where we are doing so – we are next to Palatul Telefoanelor and the other historical buildings there, so we pay great attention to design, details, architecture in general, and we hope that our projects will be seen as such.
Do you have a timeframe for finishing the office project near Palatul Telefoanelor?
I will not give an exact deadline; we are in the permitting phase, which is not always very predictable. We do an urban plan, a zoning plan, so it's difficult for me to say now. What I can tell you is that we are paying full attention to starting the building in due time.
Has the northern part of Bucharest reached its potential for office development?
For the time being, it's very crowded. I guess this will change in the future, in let's say 5 to 10 years, with further infrastructure projects to be built, other areas being opened, so for sure the north is not done. Things will come back for the north once the infrastructure is ready, once the other projects are developed; therefore the focus on the tenants will be dispersed throughout the city.
When is Forte Partners aiming to fully deliver the residential project at Aviatiei and what's your sale strategy?
We are investing a lot in design, in communal areas, gardens, facades, in all those details. So we are taking our time with the construction. The project is due to be completed at the beginning of 2019. We've sold 40 percent of the first phase and we are planning to start the second phase too by spring 2018. We are encouraged by the market, by the way in which the construction is moving. There is 10,000 sqm of green space in this project – we are investing in alleys, parks, and sport facilities. We looked a lot for land in the city as we wanted enclosed condominiums where the owners can walk, run, do sport and have time for themselves, without having problems with the city traffic and noise.
We are targeting buyers who appreciate this added value and are ready to pay the price to enjoy this valuable project.
 Are you looking to buy new land and if so, in what areas?
We have land in the north, some in the center, some in the south and west. We really value the land when we have a project on it and the residual value calculation can be made. We believe that we are quite an open-minded company so even if we have land nearby and find a better plot we have no problem buying a new one and selling the existing one.
Do you have an exit strategy for your projects?
As we are not an investment fund, so it is not in our DNA to hold assets for ever, we don't yet have an exit focus. Our main aim is to deliver high quality buildings and then eventually to exit, but when the time comes.
Are you grappling with delays in construction due to lack of workers on the building sites? This has been cited as one of the main challenges facing the market.
It is not easy, but we are doing a great job of managing with the contractors and construction in general. This is not the only challenge; others are the design, financing, construction and deliveries. We have approached the challenges one by one and so far, so good. We have a very good internal construction team. We don't do construction management ourselves; we always work with general contractors. Each time we start a new construction we do a tender; we try to get the best price, quality, and time as possible.
What are the plans for Forte Partners' team next year? Are you looking to expand?
We don't want to expand the structure too much. We have always wanted to keep a core, competent structure. We have 30 employees at the moment. We would like it to remain around this number.
GEO MARGESCU
founder & CEO of Forte Partners
With 15 years' experience specializing in development management and construction, Geo Margescu is the founder & CEO of Romanian real estate developer Forte Partners. During his career, he has developed several landmark industrial, office and residential projects in Romania, which have been recognized and awarded internationally.