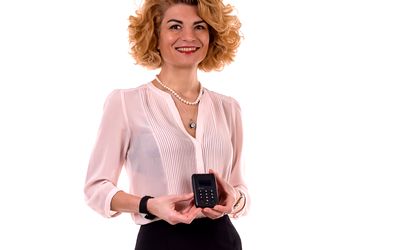 As card payment has become a widely used payment method and the transactions' value recorded double-digit growth in 2016, Eurofors, a company specialized in software solutions development, has come with the idea of creating a mobile point of sale solution (mPOS). Alina Andrei, managing partner at Eurofors, has exclusively told BR more about how it works. 
How did you come with the idea to bring the mPOS solution to the market?
The idea came pretty naturally and logical as our company was born with the aim of supporting the local banking sector in the implementation of new payment solutions. My partner and I both have long history in supporting banking and insurance sector in their development and we are very passionate about new technologies and new solutions that bring an added value to the end client.
What are the advantages of it?
First of all, it eliminates the cash from the pockets of the couriers and insurance agents, or from the little shop-keepers drawer which ease their life very much. There is no need to run to the bank to deposit the collected money. The card payments are accepted immediately and the seller receive the confirmation of the transaction. Second it can be very easily integrated in the shop selling application or process, so no need for another application to be opened separate. We can integrate a button saying Pay by card, and the mPOS page will show up.
I know that your main users in Romania are currently the insurance companies. Do you plan to target also the supermarkets or some delivery service companies in 2017?
Main users for the moment are insurance agents, as well as a couple of courier companies, taxi companies and home delivery. We do not see this product immediately to be used by the cashier of a supermarket, but it fits perfectly in a fashion retail because it is very practical for in-store payments. For instance, a sales person spends one hour with a customer to sell a TV and can handle the payment on the spot, so the customer doesn't have to queue at the cashier anymore.  It is also of interest for the e-commerce platforms that are sending the goods to the client address and they will have the possibility to collect the money at the moment of the delivery without having to deal with cash.
How do you see the current card payments industry in Romania?
Card payment transactions' value recorded double-digit growth in 2016 as consumers increasingly used financial cards due to the improvement of the financial payment infrastructure. This includes more point-of-sale terminals or ATM machines in remote areas of the country. The increase of the minimum and average wage contributed to ATM cash withdrawals as well as the number of transactions. However, there is still much potential. For instance, credit cards are yet to explode as their number remains low given that only one in seven Romanians use such payment instruments.
Romania is still behind when it comes to pre-paid cards but following the measures amending the restaurant ticket legislation in 2015, the first restaurant tickets pre-paid cards were issued at the end of 2015.
How many devices have you distributed already?
In the first 6 months of operations, we deployed more than 3,000 devices, but we are in negotiations with other banks and we expect another significant orders to be placed. We are also promoting the solution to the merchants, so we can increase the penetration of the card acceptance at the national level.
Do you plan to launch other applications this year?
We are in constant search for new innovations that can be implemented on the local market. We are looking for solutions that are already certified and implemented in other countries and which can show us a proven track record. We saw many companies presenting us wonderful ideas on paper but who still have 6 to 12 months development ahead. As we want to increase the number of mPOS implementations, it is important for our customers to have a user friendly merchant on-boarding procedure. In order to assist them with this, we present them solutions to automate this process as much as possible.
Regarding the next wave of payment solutions; paying by mobile phone, we are looking at a two step implementation. In a first stage payments from consumer to merchant and next consumer to consumer payments. HCE (Host Card Emulation) is coming to maturity and is our target at the moment. All these alternative payment methods require increased security so we also want to offer our customers solutions in this domain. And more in particular via biometrics and device authentication.