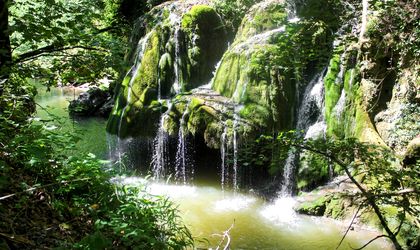 Romania is known for its beautiful wild landscapes and some of its natural reservations. A beautiful area is the reservation Cheile Nerei-Beusnita. Cheile Nerei-Beusnita represents a protected area of national interest in the National Park Cheile Nerei – Beusnita, a natural mixed reservation in Caras-Severin county.
Cheile Nerei comprises some of the most interesting natural objectives of Romania. The water of Nera river has digged and has formed in chalk rock some lakes, caves and falls.
The most popular attraction is the Bigar waterfall, which dazzles through the landscape of water falling over the cliffs covered by moss. The falls has an arch shape and the water comes from underground caves from mountains. The falls is placed near the confluence with Poneasca brook, where the highway meets the imaginary Parallel 45. The place is also named "the parallel 45" or the Bigar's origin with alternative debit.
The water from the karst platform Lisovcea, above Bigar, comes from the mountains through the Bigar's origin with alternative debit and flows in Minis brook, an affluent of Nera river.
The water from Bigar's root is not drinkable and has a high content of chalk. This is how it's explained the formation of waterfall's cone . Bigar has a height of 7 m.
The The World Geography site ranked the waterfall on the first place in top of "8 unique waterfalls worldwide" in 2013.
On Cheile Nerei track you can also find Ochiul Beiului, the most popular lake of Cheile Nerei, with a fairytale landscape. The crystal clear water leaves the impression of statical small ocean, while the vegetation around it completes the natural fairy landscape. The karst lake is filled in by a root of water and this is why it never freezes on winter. It has a depth of approximately 3.5 meters and a surface of close to 290 meters.
Ochiul Beiului lake
There are several legends and superstitions related to this lake. One of them says that once upon a time, a frightful Turkish that owned these lands had a son with blue eyes, who fell in love with a local female. The Turkish heard about their love and got mad finding out his son is in love with a Vlach. So he sent his vassals to kill her. His son couldn't stop crying and decided to commit suicide. It's said that the lake is formed of the eye drops of the young Turkish's blue eyes.
Another beautiful objective of the reservation is Beusnita waterfall, also covered by moss. It dazzles through the cuts of cliff and the trajectory of the water drops.
Photo courtesy: ghiduri-turistice. info
The track to Beusnita waterfall is easy and can be  reached within 2 hours from the Bei bridge. It's a silvan road, accessible even for children.
All these wonders awaits for their visitors in one of the most popular reservations of Romania, ideal for family tracks.
Featured photo courtesy: Hai sa socializam association