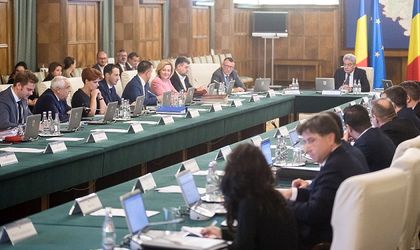 The Tudose Government is due to adopt the 2018 budget proposal in the cabinet meeting scheduled for 2 pm on December 6th, which will be followed by Parliament setting the debate calendar.
The Finance Minister estimates that a GDP growth of 5.5 percent for next year, reaching RON 907,8 billion (EUR 195,5 bln). This expected growth rate is lower than what the National Prognosis Commission had previously estimated (6.1 percent).
Deputy PM Marcel Ciolacu said that the 2018 budget will be the largest Romania has ever had, and that the actual sum will be even higher than current estimates – but that remains to be seen after the National Institute of Statistics releases a prognosis.
The government's estimated budgetary cash deficit of 2,97 percent of GDP, while the ESA (European System of Accounts) deficit will be 2,96 percent of GDP, therefore staying within the target 3 percent deficit recommended by the EU.
For the next year, the government is expecting an average inflation of 3.1 percent, similar to what the National Bank has estimated for the end of 2018 (3.2 percent).
The average exchange rate for EUR should remain around RON 4,55 according to the government, while the National Bank expects 1 EUR to cost around RON 4,64. The estimations come after the euro reached a record value against the New Romanian Leu, at 4,6551, on November 21st of this year.
The government expects that 351.000 people will be unemployed in 2018 and the average net salary across the country should reach RON 2.614.
The investment budget for 2018 will be RON 38,5 bln (around 4.2 percent of GDP), while for 2020 this number should go up to RON 53,3 bln.
The highest budgetary revenue sources for 2018 will be contributions (10,1 percent), followed by VAT (6,8 percent), excise duties (3,3 percent), and income taxes (2,3 percent).
According to the project released by the Finance Ministry, a number of Ministries will get a higher budget for next year, including the Economy, Culture, Regional Development, Education, while the government will be cutting funds from Justice and Labour.