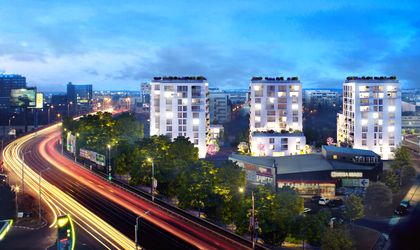 Local real estate developer Forte Partners has obtained EUR 12 million in funding a from Banca Transilvania to develop the residential project Aviatiei Park.
Aviatiei Park, located in the Aviatiei – Barbu Vacarescu area, will include 352 de apartments and studios in four buildings. The first phase of the project, which will see   the delivery 176 apartments, will be completed in January 2019. The total investments in the development of the residential project stands at EUR 37 million.
"The financing institutions are willing to lend to developers with a very good record and projects that are thoroughly planned. The decision to test on the residential segment the business model we were successful with on the office market was a good one and Aviatiei parl is a perfectly planned project for the Barbu Vacarescu office area where thousands of people who need to cross the city daily are working," Geo Margescu, CEO and founder of Forte Partners explains.
Coldwell Banker acts as consultant and exclusive agent of the Aviatiei Park project.
"Over 6,000 apartments were planned to be developed in the Barbu Vacaresu – Aviatiei area, and the demand is very high, and especially from people with average income who work in the office buildings in the area. Given this background, the projects that are already in the development phase, such as Aviatiei Park, have a competitive advantage," Andrei Sarbu, Coldwell Banker Romania said.