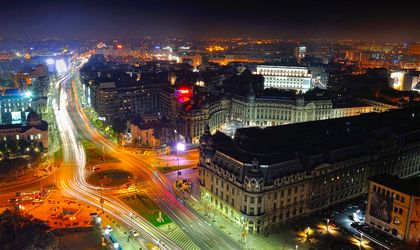 Faced with a near six-month exile back in her native land, BR's resident UK expat outlines what she's missing most about Romania and Bucharest.
By Debbie Stowe
Ten days from May (the month, not the quasi-dictator prime minister), it's chilly and gray outside, politics is in turmoil and the kettle's on. Yes, this month's column is brought to you live and direct from England, and here are my current gripes about that.
             Coffee
Most Brits – barring the really sophisticated ones – got their introduction to coffee through the instant variety Gold Blend. Ooh, what an exciting alternative to the national cuppa (tea) we thought, back in the 20th century. The 2000s brought an explosion in popularity of international coffee chains such as Starbucks, Caffè Nero and Costa, which blew our minds – coffee… but not from granules! Check out us chic Europeans! For many, coffee drinking could get no fancier than a skinny latte in a chain store. (Proper stuff is available in some independent outlets in the more cosmopolitan cities, but you need to know where to look.)
I was one of the instant-ignoramuses in my time, but since moving to Romania, have classed up in this regard and can now (I like to think) tell a good coffee from hot, brown, bean-flavored water.
But, desperate times, desperate measures, and we thought we'd chance a Starbucks. I ordered a decaf cappuccino and was asked what size. The smallest option seemed to contain about as much liquid as a Romanian ibric, the largest, a small bucket. It tasted burnt. Oh, for the sunlit uplands of Coffee Factory, Caffe Latte, M60 and their ilk!
             Weather
We flew out of Bucharest on a gorgeous sunny day in March with the temperature in the balmy mid-20s – how spring should be. Three hours later, we touched down in the UK, to barely-above-zero grayness. As we disembarked down the plane steps, driving winds sent lashing rain into our bewildered faces. My 18-month-old started crying. I felt like doing likewise.
             Prices
The taxi back from the airport cost about as much as the flight – our British spending account was open, and it still is, with outlay rising rapidly. It's too simplistic to say that Romania is cheaper than the UK, because that doesn't apply across the board – supermarket food, clothes and electronics either cost less or can be better value in Britain. But, get a cab for a meal and a few drinks in a modest restaurant, and weep for Cristaxi and your local Bucharest trattoria.
             Cinema
In Bucharest, your options are: (1) a delightfully old-school downtown venue with quirky charm; cost about EUR 2.50; (2) comfortable though less characterful multiplex; cost about EUR 5; or (3) multiplex VIP cinema, reclining seats, with buffet, drinks and popcorn included; cost about EUR 15. In the UK: your main option is a multiplex, where the VIP section just means a slightly larger seat; the cost of two tickets, one popcorn bucket and one drink came to GBP 46. GBP 46! Nearly GBP 50 to see a movie on a weekday afternoon! See previous point.
             City center living
Walking to work, concerts, theaters, the opera, restaurants and cafes; living no further than a few metro stops from most friends… The affordability of property (bought or rented) in the heart of a European Union capital is one of the joys of Bucharest life. If you want the same in London, you have to (a) be a footballer or celebrity, (b) have sold your soul and be slaving 18-hour days for an amoral financial institution or corporation, or (c) have inherited a shedload of cash from wealthy ancestors. A parking space in London went on sale for over EUR 400,000.
             Political stability
Okay, I'm (half) joking. However, as the Brexit fallout continues, we're now facing a snap general election. At least Romania's top politicians only want to let their corrupt cronies out of prison and steal a few thousand from state funds here and there, not tank the economy, trash their international influence and bring on the actual breakup of their country, as it currently exists.
So, after a few months of being poorer and colder, exiled far from big city excitement, and with only bad brews or trusty tea to pep me up, I dream of drinking a lovely espresso on a Bucharest terrace on a warm autumn day. Enjoy your summer!