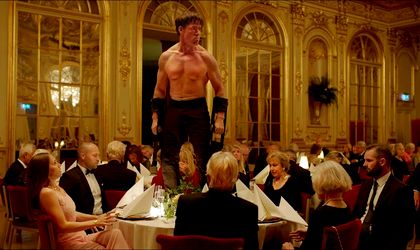 Some industries – typically those that take themselves very seriously – are just too easy for satirical filmmakers to take down. High art is one such.
By Debbie Stowe
The Square's protagonist is Christian (Claes Bang), a suave, handsome curator of a flagship Stockholm museum, whose stylish, high-end lifestyle is upended by a petty crime and the institution's efforts to raise funds and its profile.
These narrative strands meander through the movie, but plot is squarely (see what I did there?) in second place to director Ruben Ostlund's often surreal musings on high culture, its silliness, pretentiousness and capacity for the sinister. There's a ludicrous PR firm, a farcical interview with a top artist (Dominic West), a childlike vigilante mission, and an offbeat romantic subplot, which never build up into any narrative thrust or closure. In lesser hands, this would make a 142-minute film unwatchable, but this drama seldom falls below fascinating.
This is largely thanks to its humor. As well as the easy comedy in lampooning ridiculous art and artists, the director neatly depicts several very human observations: a sequence in which Christian and a colleague attempt to retrieve some missing items is a joy, as early gung-ho planning and enthusiasm gradually dissipate when confronted with reality (with neither participant wanting to admit they've lost their nerve).
However, Ostlund doesn't just play his subject matter for laughs: a piece of performance art steadily degenerates into dark territory, in an unforgettable scene utterly at odds with the lightness of much of the rest of proceedings.
A certain Nordic detachment characterizes The Square – it's hard to imagine this film being made elsewhere.
While such a singular production eludes comparison, there is something reminiscent of 2013's The Great Beauty (La grande bellezza) in how a series of impressively stylized but loosely connected scenes skewers a pompous industry – although Ostlund's movie is more human and engaging. Over two hours spent among his culture vultures is time to relish.
DIRECTOR: Ruben Ostlund
STARRING: Claes Bang, Elisabeth Moss, Dominic West, Terry Notary
ON AT: Cinemateca Union, Peasant Museum Cinema, Grand Cinema & More, Happy Cinema, Hollywood Multiplex, Cinema City Cotroceni, Cinema City ParkLake