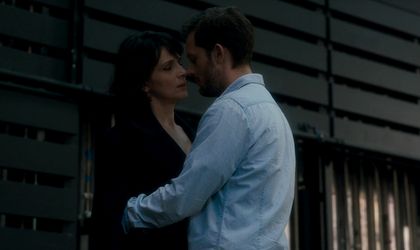 Imagine the Frenchest film possible. It would open with a sex scene. It would be about artists and intellectuals, alternately making love, drinking wine and having high-brow conversations. It would star an impossibly sexy and stylish middle-aged woman. And it would feature Gerard Depardieu.
DIRECTOR: Claire Denis
STARRING: Juliette Binoche, Xavier Beauvois, Philippe Katerine, Josiane Balasko, Bruno Podalydes, Gerard Depardieu
ON AT: Grand Cinema & More, Cinema City Cotroceni, Cinemateca Union, Europa, Peasant Museum Cinema
Step forward Let the Sunshine In, an episodic drama (in a loose sense of the word "drama") that follows a Parisian divorcee (Juliette Binoche) through her love affairs (in a loose sense of the word "love").
Isabelle is a renowned artist, but her romantic life is less successful than her professional one. She's variously involved with a ghastly banker, an alcoholic actor, a fellow artist, a random mystery man from a nightclub and her ex-husband, while fending off the attentions of other undesirables in her daily life. With all that having sex and then talking about it, it's surprising she finds the time to paint.
The meandering storyline is challenging for those raised on Hollywood action – this isn't one for the popcorn-munching brigade. Instead it delivers strong performances and characterization, a naturalistic look at the dating game for the middle-aged bourgeoisie and a (rare and nonjudgmental) focus on a so-called promiscuous woman.
That generates pathos, as Isabelle's lovers are mostly undeserving of her, but there is also some sharp comedy. If we didn't already know that one of her beaus is a jerk, when he asks a waiter for "gluten-free olives", we do now.
And more seductive than all of her suitors is the Paris in which the story unfolds, a city of theaters, charmingly old-school restaurants, independent fishmongers (where Isabelle shops, although we never see her cooking), glamorous apartments and endless soulful jazz – we even get elegant, urbane sounds when a cabbie flicks on his radio at random.
One of the bars the characters drink in is so beautifully, chicly French that it would almost be worth dating someone who asks for gluten-free olives just to be taken there. Almost…
The final flourish is a piece of bravura filmmaking, and surely a contender for the moment cinema reached Peak France.
By Debbie Stowe