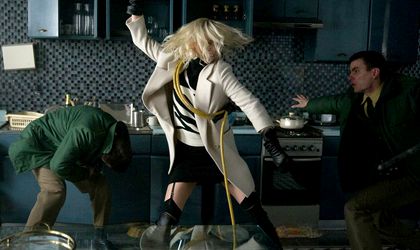 With the often male, pale and stale world of the action movie getting recent jolts in the arm from 2015's feminist take on Mad Max and the 2016 all-female Ghostbusters reboot, the title of David Leitch's spy thriller is dispiriting. Your action hero's a woman so you name your film after her hair color (while making a lame pun). Really?
Debbie Stowe
Fortunately, the patronizing ends with the (oddly irrelevant) title. MI6 spy Lorraine (Charlize Theron) is a kickass – literally – agent, easily dispatching her male rivals as she navigates 1989 Berlin, in the chaotic period before the collapse of the wall.
Her mission: find a missing microfilm with all the names of the West's undercover agents, which has fallen into enemy hands. It's a satisfyingly old-school McGuffin (Hitchcock's term for the otherwise insignificant device on which the plot rests).
She tells her story in flashback, during a London debrief with senior officers from her own agency and the CIA (Toby Jones and John Goodman). Her face is covered in bruises, so we know she's been through some violent encounters, but has ultimately prevailed, or at least escaped.
Lorraine's German adventures center on fellow British spy David Percival (James McAvoy), the UK's louche, hard-drinking Berlin station chief. In a prelude to the main action, we see another MI6 man assassinated by the KGB, having been betrayed by a double agent, thereby throwing a traitor into the mix and ramping up the jeopardy for Lorraine.
Looking just at the plot, Atomic Blonde is terribly old hat, with versions of this story – find the microfilm, unmask the mole – having been done to death back in the Cold War and ever since (Tinker Tailor Soldier Spy in 2011 being one of the most obvious recent retellings).
Two things modernize it: a woman in the lead role, and the neon-lit, punkish, high style in which events unfold. As with all spy movies since the early 2000s, there's a hint of Bourne, but Leitch's film comes with an offbeat fashion vibe – proceedings have the feel of an Ultravox video, with Lorraine sashaying about Communist Berlin in a series of eye-catching designer coats (being unobtrusive definitely isn't part of her espionage playbook). A pulsating soundtrack also adds to the music video vibe.
Some things don't change. When a sadistic Communist army officer says to the young punks lined up before him, "Let's have some fun", you know that no fun is going to be had, and you can prepare to flinch as someone takes a beating.
It's this aspect that is one of the film's less palatable features: the excessive violence. Spies from different sides of the Iron Curtain probably weren't very nice to each other: we get it. No need to spend minutes at a time depicting graphic brutality and blood spattering everywhere. The scenes of psychological interest, as Lorraine interacts with both (supposed) allies and enemies, are far more engrossing.
As with many Cold War stories, there are so many twists and volte-faces that the narrative can become confusing in a "I thought he was with them", "No, he's really against them" or vice versa type of way.
Initially the flashback structure also strips the story of some of its suspense: if Lorraine is sitting there in the debrief room at MI6 HQ in London, then she clearly hasn't been killed in Berlin. However, a coda to the main German action ensures there is further intrigue to come.
Director: David Leitch
Starring: Charlize Theron, John Goodman, James McAvoy, Sofia Boutella, Toby Jones
On at: Movieplex Cinema, Grand Cinema & More, Happy Cinema, Cine Globe Titan, Hollywood Multiplex, Cinema City Cotroceni, Cinema City Cotroceni VIP, Cinema City Sun Plaza, Cinema City Mega Mall, Cinema City