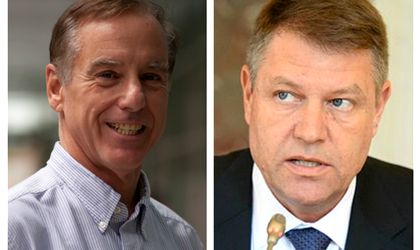 Howard Dean, who was governor of Vermont of six terms, wrote on Twitter that Romanian president Klaus Iohannis should be leading the United States of America, instead of Donald Trump.
Dean suggested that Iohannis would be a good leader in the US because he backs protesters against the government in Romania.
"FOR THAT MATTER MAYBE JOHANNES SHOULD BE RUNNING THE USA !!!," wrote Dean, a former White House candidate in 2004 who is currently working as a political consultant.
In a previous tweet Dean wrote that "Maybe Johannes should be running the EU. Bravo!!!!!!".
Dean was criticizing Trump for the way in which he reacted to the protests at the Berkeley University in California.
Trump warned that he would cut the funding of the university if the students didn't stop the protests against a journalist from extreme right wing site Breitbart News from holding a speech there.
In Bucharest, Iohannis has supported the peaceful protests and even attended one rally. He said that a gang of politicians that have legal issues were trying to change the legal framework so that their corruption charges would disappear.
The president said on Friday, during the European Summit held in Malta, that: "We have hundreds of thousands of my Romanians on the streets."
Over 200,000 people gathered for a third night in a row, in the Romanian cities, calling for the center-left government led by Sorin Grindeanu to repeal the amendments to the Criminal Code and Criminal Procedural Code.
However, the PM said that his government will not back down and that he will continue to support the controversial legal changes.
The amendments have been challenged by the Ombudsman and president Iohannis at the Constitutional Court.
Ovidiu Posirca