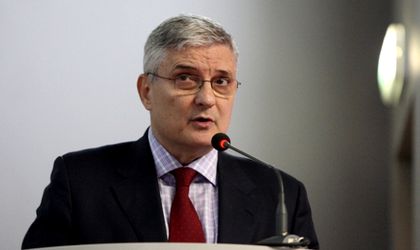 Economist Daniel Daianu, member of the Romanian National Bank's Administrative Board, said during the Mobile Communications Gala on Tuesday that Bitcoin is a speculative asset because it does not have the backing of a state.
According to Daianu, quoted by Agerpres, time will show that Bitcoin and other cryptocurrencies are speculative assets, and that it is essential for any coin to have a last resort lender, which these coins don't have.
"Commercial banks have been saved through liquidity injections made by central banks, with the help of traditional currencies. Financial systems can become vulnerable in the face of financial innovations such as ThinkTech. The vulnerability can be exploited through by cyber attacks. Those who aim to weaken competitors or enemies may use these types of methods. Hacking poses a significant problem to central and commercial banks.
I can even say that Bitcoin isn't a cryptocurrency. Bitcoin and the blockchain itself are frequently seen as being the same thing. In fact, blockchain is a useful technology for banks and large conglomerates, which can bring better security. Bitcoin uses the blockchain, but doesn't necessarily bring security.
Commercial banks are already one step ahead when it comes to using blockchain technology. I think that ThinkTech has to be seriously regulated, in the same ways as the financial system. Romania's National Bank is part of the European system of central banks and is studying the impact of new technologies on the financial system", Daianu argued.
Blockchain already influencing financial systems
Blockchain technology has been adopted by several global banking institutions, including the Commonwealth Bank of Australia and Wells Fargo, according to Reuters.
The Administrative Board of the Federal Reserve has recognized the potential of blockchain to transform the way in which market actors transfer, store and maintain data on digital assets. Cisco specialists argue that the blockchain is one of the most important concepts that will mark the next four years.
Blockhain uses cryptography to create a decentralized ledger for users' transactions – all transactions are archived and authenticated publicly, eliminating the need of a central owner of the data.
The president of the Financial Regulation Authority in France called Bitcoin "a dangerous illusion" and an instrument that benefits criminals.
At the moment, 1 Bitcoin is worth USD 12.835, its value being over ten times larger than in January 2017.