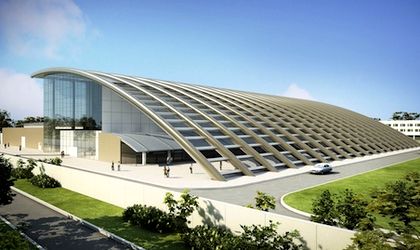 The European Commission has approved the second phase of the Extreme Light Infrastructure – Nuclear Physics (ELI-NP) project, implemented at Magurele, 12 kilometers southeast of the capital. Over EUR 140 million will be disbursed from the European Regional Development Fund in order to ensure the continuation of works started in 2013.
The ELI-NP project is a European center for ultra-high intensity lasers, where research will be conducted into laser matter interaction, nuclear science and material science by means of laser driven radiation beams. The project, a pan-European initiative, started in 2006 as a proposal on the roadmap of the European Strategic Forum for Research Infrastructure (ESFRI) and later received funding through the European Union FP7 Programme.
The pan-European facility is based in three countries, namely Hungary, the Czech Republic and Romania. In Magurele, works started in 2013 and will continue through 2018. According to Director of the ELI-NP Prof. Dr. Nicolae-Victor Zamfir, the project "was conceived as a "bridge" project, which was going to be financed from structural funds in two cycles. As of 2016, the project must be financed from EU funds within the new financing cycle; therefore it was necessary to have EC approval for stage two of the implementation. In this stage, the construction of large-span equipment will be completed – the high-power laser system and the high-intensity gamma system," Zamfir told BR in an interview.
According to European Commissioner for Regional Policy Corina Cretu, "ELI is a symbol for Europe", as well as "the first EU investment in the research infrastructure of the new member states, a product of European excellence that redesigns the boundaries of knowledge through the use of high technology."
Thanks to European funds, the Commissioner added, in only a few years, the EU will have state-of-the art infrastructure and research equipment, and the results of future research will provide new products and services, contributing thus to the country's economic development and to that of Romanian education.
Georgeta Gheorghe