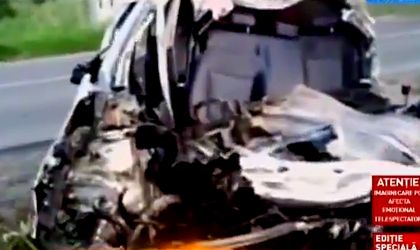 The controversial director of Hexi Pharma, the producer of diluted disinfectants, has died in a car crash near Bucharest on Sunday night, according to media reports.
Dan Condrea, 41, was driving on a road between Corbeanca and Buftea when he got off the road and hit a tree. According to one witness quoted by the media, his car had a speed of around 150 km/h.
One of the employees of Hexi Pharma said that Condrea had been a driver with a lot of experience.
In a text message he had recently sent to one of his employees, Condrea stated that he would not work in the pharma sector anymore.
The Hexi Pharma head was supposed to be heard by prosecutors on Monday and could have been placed in preventive arrest, according to general prosecutor Augustin Lazar.
A police spokesperson said that there weren't any signs of car brakes at the crash site. He was alone in the car.
Hexi Pharma is investigated by the General Prosecutor's Office after the media reported that the diluted disinfectants produced by this company had been used in public hospitals across Romania.
The Romanian Intelligence Service (SRI) had recently stated that it had submitted 4 classified documents about Hexi Pharma to Romanian decision makers between 2011 and 2016.
Ovidiu Posirca