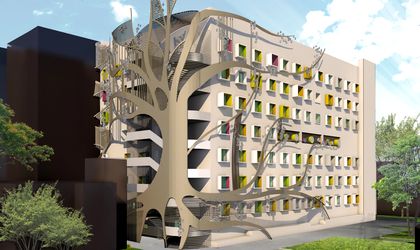 Daruiește Viața Association begins the construction works for the first Pediatric Oncology and Radiotherapy hospital in Romania, in the court yard of the hospital "Marie Curie" in Bucharest, following investment close to EUR 8 million and a fund raising started in 2015.
The building will have 8,000 sqm, developed on a basement, ground floor and three floors. There will be 52 beds in Oncology section, 10 beds in Oncology Surgery section, 25 beds in Ambulatory department, 10 sterile rooms, 1 room for radiotherapy, as well as rooms for educational and relaxing activities, library and cinema.
To finish this project, the Association asks for the help of companies to transfer 20 percent of the tax per profit at this year-end.
It's for the first time when in Romania an NGO builds a hospital from scratch, only from donations and sponsorships and it's the last period when 80 percent of the firms can decide to transfer 20 percent of the tax per profit, as the Government changed the Fiscal Code and the new version, that comes into force in January 1, eliminates the possibility to transfer the 20 percent of the tax per profit under sponsorhips form for over 50,000 companies.
Carmen Uscatu, president of Daruieste Viata Association, says that 1 in 2 children affected by cancer in Romania dies, while in Europe 80 percent of them live.
Currently in Romania there is no treatment center for children affected by cancer, that has all the services necessary during their treatment.