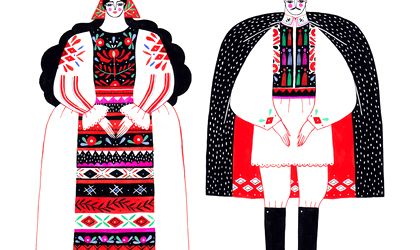 The most wonderful period of the year has arrived, when most central city streets suddenly acquire a sparkle and spontaneous caroling is on the order of the day. The lights are on, the parties have started and it's a bit bone-achingly cold. Yes, it's Christmas time and Business Review's Christmas shopping guide is now ready. Merry Christmas, one and all!
Atelierul de Pufosenii
Category: toys
The Timisoara toy manufacturer is probably the most child (and adult) friendly place in Romania. Toys are brought to life by Lia Pffeifer, who personally designs and creates each and every one. The materials used are premium and specially treated in order not to provoke allergies. Check Atelierul de Pufosenii on their Facebook for orders.
Boltom
Category: music
Orders at www.boltom.ro
These tiny handcrafted music boxes will bring true pleasure to all music lovers, especially those with a fondness for classical.
Cup&Candle
Category: home decor
Orders at www.cupcandle.ro
The online store sells both beautiful pieces of crockery, such as teapots and cups, as well as incredible scented candles delivered, of course, in a cup. Worth trying, as the scents are amazing.
Iutta
Category: leather goods
Orders at www.iutta.ro
Romanian brand Iutta, a leather shoe, bag and accessory producer, offers products with traditional motifs, everything defined by colors, shapes and textures inspired by nature.
Lyria
Category: leather goods
Orders at www.lyria.ro
It all started with stories painted on bags. The most recent collection includes bags with removable covers which can be changed in order to suit your look to the occasion.
Madalina Andronic Illustrations
Category: contemporary art
Orders at www.madalinaandronic.com
Madalina is a Romanian illustrator who  draws inspiration from traditional fairy tales, folklore, love and happy thoughts, never forgetting the magic of where she comes from. Whether you're looking for illustrations, ceramics, books, postcards or even pieces of clothing painted by her, you will love her work.
Made in Rosia Montana
Category: clothing
Orders at www.madeinrosiamontana.ro
Around 30 women from Rosia Montana are making additional income from doing what they love: knitting. "Made in Rosia Montana is not a business that aims to make anyone rich, but rather one where people work passionately and ethically with their own two hands to help move things forward and bring people closer to ancestral values and this wonderful place in Romania. Working with wool is a beautiful thing because high quality products come to life," is their promise. Some of the money is invested in educational programs.
Merci Charity Boutique
Category: clothing
Orders at www.mercicharity.ro
The charitable tea house has opened its own fashion brand, Port cu mine o fapta buna (I'm wearing/taking with me a good cause) with the money raised from the items going to a project called Zana Maseluta (the Tooth Fairy), a program for children who need dental treatment.
Mesteshukar ButiQ (MBQ)
Category: home decor
Orders at www.mbq.ro
Mesteshukar ButiQ (MBQ) is a network of social economy enterprises aiming to revalue traditional Roma craftsmanship. The pieces are made with clean raw materials, with knowhow passed from generation to generation, skillful hands and immediate usefulness. Most of the products are made from copper.
Plantwear
Category: accessories
Orders at www.plantwear.ro
If you are a fan of wooden products, a search on the Plantwear website will meet your needs. The designs and cuts of this eco-friendly brand are interesting.
Dizainar
Category: home and deco
Orders at www.dizainar.ro
This store offers a wide variety of designer products for those interested in decorating homes and offices with Romanian-made pieces of art. Dizainar's portfolio is comprised of over 200 pieces from furniture, lighting, clocks and graphics to personal accessories, decorations, toys, glassware and ceramics which come from more than 130 designers.