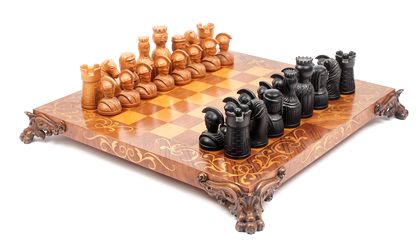 A large, wooden chessboard that belonged to and was frequently used by Romania's former dictator Nicolae Ceausescu will be auctioned on July 12 in Bucharest by auction house Artmark. The item has a starting price of USD 600.
Alongside having a strong passion for hunting, Ceausescu was a notorious chess lover. However, those in his entourage say, he used to get very upset when he lost. That is why, legend says, those who played against him were advised to avoid that outcome.
The chessboard to be auctioned belonged to the Ceausescus and is expected to fetch in excess of USD 600. A large size chessboard, made from wallnut wood with beech wood intarsia, was made in 1976.
According to historians, Ceausescu used to play chess with the country's ministers, such as Paul Niculescu-Mizil. "I was his favourite chess partner, he used to beat me often, but I also won occasionally," he is quoted as saying.