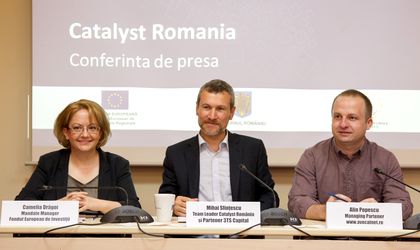 Private equity fund Catalyst Romania has marked its first local transaction by acquiring a 30 percent stake in the business portal www.avocat.net, in a deal evaluated at several hundred thousand euros.
The fresh capital will allow the online business to launch new products intended to diversify its revenue sources.
"The business will grow through the development of some areas for which we lacked the development financing. When you are a small company, you only have money to survive, not to invest. The money from the fund will serve this goal," Alin Popescu, managing partner of www.avocatnet.ro, told BR. Popescu is one of three shareholders in the business portal. He added that the company aims to expand in the legal software area and will hire ten more people.
Popescu says the bulk of the fresh investment will go towards www.superlege.ro, an application that will allow users to understand the laws published in the Official Gazette and to organize their activity more efficiently based on the legal restrictions. This application will have a free area, while some premium services will be fee based.
Up to now, the revenue model of avocatnet.ro has been quite straightforward and the portal, which currently employs 15 people, gets the biggest share of its revenues from online advertising, on the back of its readership of over 1 million monthly visitors.
At present, the audience is equally split between consultants in business areas (lawyers, HR managers), entrepreneurs and SME workers as well as laypeople interested in legal updates. As the local business community became more interested in the frequent fiscal and legal changes, the turnover of the portal reached EUR 420,000 in 2012.
Getting private equity backing
The investment will be carried out in several steps and is designed as a capital increase to support the development of the portal.
The shareholders of the online business sealed the deal with 3TS Capital Partners, a private equity fund active in the CEE region, which is the manager of Catalyst Romania.
"We had discussions with several investment funds. We also talked to serious individuals, but the market is the way it is at present. From the serious people we choose 3TS," commented Popescu.
The Catalyst fund finances investments of between EUR 200,000 and EUR 2 million and aims to raise initial capital of EUR 20-30 million. It targets Romanian SMES active in the TMT (technology, media and telecom field). Catalyst's biggest financial backer is the European Investment Fund, which is able to allocate structural funds through the Jeremie Initiative. BT Asset Management and other private mangers are also part of it.
Mihai Sfintescu, team leader at Catalyst Romania and partner at 3TS Capital Partners, said there are a lot of projects in the TNT areas, based on the enthusiasm and ideas of SMEs, making it an active growth sector for the local economy.
Law firm Biris Goran, Emilian Duca (tax & business solutions) and Alina Dumitrescu (transaction expert) assisted Catalyst in the deal. The business portal retained law firm Ionescu & Sava
Ovidiu Posirca