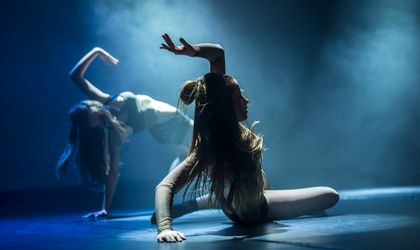 The fourth edition of the Bucharest International Dance Film Festival, whose theme tis year is "[re]tracing," will take place in the Romanian capital between 6-9 September across six venues.
The festival will explore the traces left by time on the lives of the people and communities they are a part of. "The meeting between film and dance brings to BIDFF stories about resistance, perseverance and courage. (…) We sought and found ingenious methods of archiving the collective memory, but also daring forecasts on the future, by means of which we want to offer a context for the repositioning of the 'private individual' versus 'the many,' even though this might imply altering what is generally defined as the 'truth,' Simona Deaconescu, the festival's artistic director, said.
At this year's edition, alongside the festival's two traditional competitions for international and national shorts, BIDFF will welcome in Bucharest two international experts. The two, Guy Cools and Helena Jonsdottir, will coordinate the drama and the creation labs, respectively.
The lab, designed for creatives in South-East Europe, takes place between 3-9 September and will be held at Qreator and LINOTIP – Centru Independent Coregrafic. The lab will also include a pitching session where participants can present their ideas. The winner of the pitch will be awarded an EUR 700 prize offered by the Romanian Cultural Institute (ICR).
The even't partners and hosts are Cinema Elvire Popesco, The National Center of Dance, LINOTIP – Centru Independent Coregrafic, DESCHIS Atelier, DESCHIS Gastrobar and Qreator.
Bucharest International Dance Film Festival was developed by the Tangaj Dance Association, with support from the National Center for Cinema, the Romanian Cultural Institute, the Honorary Consulate of the Republic of Ireland in Bucharest, the British Council and the Balassi Institute.
Photo credit: dreamstime.com