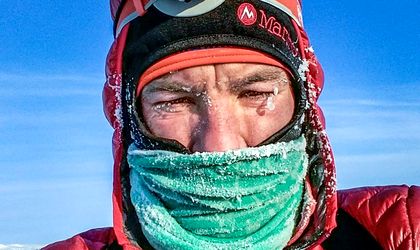 On Friday Bistrita-born Tiberiu Useriu (43) won the 6633 Arctic Ultra ultramarathon held in Canada, around the Arctic Circle and became in the proccess the first in the world to achieve such feat twice in a row.
Useriu led from start to finisg in the race, regarded as 'one of the toughest, coldest and windiest ultra distance on the planet'. He crossed the finish line at 01.25 am, Canadian time, at a temperature of – 36 degrees Celsius, according to the facebook page of the event.
He ran the last kilometers in spite of a frostbite, and despite doctors' warnings. Nevertheless, he managed to finish the race and lead by a considerable margin compared to the second ranked competitor, Scotland's Roddy Riddle.
A total of 24 competitors, among which three women, started the race on March 10. Only 18 of them chose to run all 560 kilometers, and five of the participants had previously entered the competition. Thtoughout the race, they had to face extreme temperatures of -40 degrees Celsius as well as strong winds and snow storms.
Useriu was the only Romanian who participated in the race at the current edition. Last year's edition saw three Romanians at the start line.