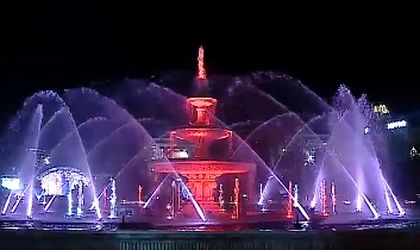 The Bucharest City Hall and Apa Nova will mark the launch of the refurbished fountains in Unirii Square, meant to become the city's new tourist attraction, through a concert by the Bucharest Symphony Orchestra and a multimedia show to be held on September 20. Access is free of charge.
After 4 months of refurbishment works, the fountains in Unirii Square will be reopened for the public later today. These are the first fountains in Europe to enjoy of state-of-the-art equipment and offer a new perspective on water and the city alike, according to the administration.
The upgrade of the fountains is part of a program of Apa Nova's own funds, with an initial investment estimated at EUR 7 million. The approach involved a facelift of the fountains, which have many classic features.
The central sculptural element has been preserved and integrated into the new design. The Unirii Square fountains have integrated four water screens oriented to the four cardinal points, designed to create a huge multimedia platform for videos and laser projections.
Now, the completely digitally monitored system allows control of any individual unit in the entire complex of 44 independent fountains located 1.4 km from Alba Iulia Square to the Constitution Square.
"The fountains in Unirii Square are a symbol of the city and for Apa Nova it is an honor to put its mark on one of the most ambitious urban development projects in recent years," said Mădălin Mihailovici, general manager Apa Nova.
German company OASE, internationally recognized in the field of water entertainment, has supplied equipment and implemented state-of-the-art technology, unique in Europe.
The fountains from Unirii Square were built at the end of the 1980s, are one of the longest such systems in the world (1.4 km), with a surface of 16,200 sqm of water, unique by their arrangement in the center of the capital.