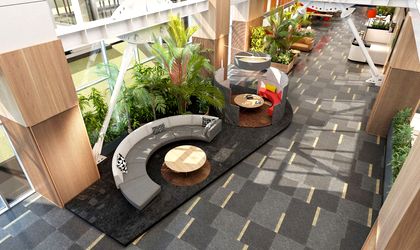 The office is increasingly becoming a tool for attracting and retaining valuable employees as well as conveying company identity. But how exactly are local firms using interior design to reach these goals and what new trends are shaping up?
Simona Bazavan
The office environment is changing, and how it is doing so has to do with more profound shifts in the way people live and work, say real estate representatives. The office building concept as we know it is transforming under the influence of new generations, new lifestyles and the new jobs being created, Ovidiu Sandor, the developer behind the EUR 130 million ISHO project in Timisoara, tells BR. "The traditional working environment is being improved and integrated. There already is flexibility and there will be even more when it comes to the actual time spent at the office or the work schedule, which will directly impact the concept of an office building itself," he says.
Supported by
A greater focus on the environment and sustainability, the changes brought about by technological advances, the increase in the retirement age, and some opting for lower pay in favor of a set of "soft values" that have to do with enjoying day-to-day life are other factors impacting the office environment, adds Mirona Craciun, brand manager of interior workspace solutions provider Kinnarps Romania. "All this dictates a holistic approach to the working environment, encouraging employers to create spaces where their employees are not simple pawns, but members of a community where they feel important and useful," she tells BR.
Most importantly, perhaps, is the fact that offices are increasingly used as a tool to attract and retain valuable talent. This is particularly the case for industries such as shared services, outsourcing, IT, and banking, Christophe Weller, managing partner of workplace consultancy & design firm Corporate Office Solutions (COS), tells BR. "Finding skilled talent in key cities such as Bucharest, Cluj, Timisoara and Iasi is becoming ever more challenging, so smart-thinking organizations are taking a much deeper look at their office design and budget, unlike five years ago when it wasn't such an issue," he outlines.
All this means that companies are changing their approach to their offices' interior design when they relocate, while others are opting to upgrade their existing ones to reflect some of these principles.
The objectives clients mostly have in mind when planning a relocation or redesign project are boosting communication and collaboration among various teams, increasing productivity by generating new working processes or accelerating old ones, and raising employee satisfaction with the working environment and the company in general, Diana Calfa, managing partner with architecture and interior design company Morphoza, tells BR. The end game for all that is to increase employee attraction and retention, she adds. "Besides all the benefits strictly related to working processes and productivity, lately employees also see office design as a tool that transmits organizational values, both internally to employees but also externally to clients. Creative office design can also obviously act as a differentiation factor," she notes.
Open space with a twist
The latest trends in interior design stem from the challenge of putting in place attraction and retention initiatives, while at the same time managing the open-space model now very common in most organizations, Andrei Angelescu, architect and manager of the architecture and design department at COS, tells BR. "With this comes the need for increased privacy, better management of noise, increased need for collaborative spaces and areas where employees can rejuvenate during their working day," he comments. Bringing managers outside of their enclosed offices and into the open space has been a challenge, but experience shows that many now appreciate the improved connection and collaboration with team members and people from different departments, adds Angelescu.
New interior design trends for office spaces are dictated particularly by the needs of Generation Y, for whom the working environment matters considerably, points out Calfa. Be it a coffee shop or reading room at the office, such details can end up making the difference in the retention process.
As they become aware of this, Romanian companies are aligning themselves to international office design trends. "Principles such as flexibility, communication and technological power are thus incorporated into office design projects," adds the managing partner. All this means that open-space working environments will remain a widespread approach to interior design. "They stem from democratic and collaborative principles to which companies are increasingly committing. Open informal spaces thus eliminate, figuratively and literally, communication barriers between team members. More and more, even meeting rooms and gaming or social kitchens are turning into open and friendly spaces that spur employee creativity, inspire them and boost socializing among them," reveals Calfa.
Another important trend catching on in Romania as well is hot desking, a practice where an employee no longer has a fixed work station but is encouraged to work from more informal areas, such as meeting rooms and even in relaxation areas such as the cafeteria, adds Calfa. It is a way firms make sure that for their employees, no one day is like any other, she explains.
All in all, innovation is the word to best describe the way local companies are approaching their offices, and some of the projects of local firms offering interior design solutions and other connected services for office spaces reflect that, say market representatives. "It is fair to say that Romanians' enthusiasm for creativity and inspiration has enabled us to be part of some unique designs and concepts that have now become the envy of many large organizations' sister companies in other parts of Europe. Romania is pioneering office space and the requirements include an open license to innovate, inspire, differentiate and encourage improved productivity and entrepreneurship," asserts Angelescu.
Some of the projects COS has recently completed have been defined by adopting the company's innovative approach and translating that to a highly customized office environment such as the new OLX offices, he explains. Elsewhere, such as in the case of designing the Euromaster offices, it was about "ensuring office space is more than a desk and meeting rooms, but an innovative way of approaching the typical office open plan and turning it into an innovative landscape that enables productive human interactions, focused work, rejuvenation and safety," says Angelescu.
One example of an innovative project that Morphoza was involved in was designing NTT Data Romania's office space in Cluj-Napoca. "In this particular case the client wanted an inspiring design that would stimulate its employees' creativity and innovation capacity. The solution was to turn an entire floor into a spaceship boardroom. We later replicated this 'into the future' theme on all the other floors through various elements. Perhaps the most remarkable were two functional robots which were later included in the company's communication campaign," she comments.
Kinnarps, on the other hand, says that a more unusual requirement for an office design project they came across was that of creating an unconventional relaxation area based on nature. "We came up with the idea of a central garden directly linked to the open space area. In order to visually separate the relaxation areas from the formal space, we had the idea of a suspended modular wooden structure from where plants can be hung. This turned into a suspended garden that left beneath a generous and flexible area that can be furnished according to the client's needs," recalls Craciun.
Looser purse strings
Not only do companies understand the benefits of upgrading their office environment, but they are also willing to loosen the purse strings for such investments. An adequate office design project requires extensive human, financial and time resources, but it still comes at a lower cost than working in a dysfunctional space that causes stress, frustration, lost time and discontented employees, and companies now see that, argues Calfa.
There is actually a financially measurable return on investment, so "even CFOs are supporting the quality and sustainable approach to new office investment," adds Weller. The figures back this claim.
"Allocated budgets vary depending on the company's relocation or renovation strategy, the available space, how complex the project is and the number of employees. Costs start from EUR 350/sqm and can go beyond EUR 600/sqm," says Calfa. COS works for both large corporations as well smaller, local companies, its value of projects thus ranging from about EUR 30,000 to well over EUR 1 million, says the company's managing partner.
Developers chime in
Office buildings are changing both on the inside and the outside, note developers.
"The most recent office projects focus on having more shared space, on connectivity and interactivity. This is based on a mixed concept that just like an ecosystem brings together in a harmonious and complementary manner various functions – working and living, a service mix that matches a certain lifestyle and meets the demands of active people of the 21st century," says Sandor
The now traditional service mix of restaurants, cafés, banks and so on is being upgraded, he adds. Fitness and cultural services are being added, which contribute to and help define a modern way of life. "In other words, new office buildings are adapting to a contemporary lifestyle, and the fact that a developer doesn't deliver square meters but an environment that creates, enhances or facilitates a certain living and working lifestyle is truer than ever," he concludes. "Office spaces are already part of value creation, helping to recruit, enforce the brand and provide visible sustainability credentials, and the trend will continue," Sorin Visoianu, country manager operations Romania with Immofinanz, tells BR.
Given that the needs and wellbeing of their employees has become crucial to companies and office spaces are a key element in that, it is no longer enough for a developer to have a building located in a very good area, with good transport connections, he notes.
Nowadays many top-line company headquarters include relaxation and gaming rooms, social hubs, well-furbished, modern lunch areas and workplaces that provide an airy and nature-like environment and so on, adds Visoianu. "As such, the support and availability of the landlord is essential for companies to be able to implement these facilities, and to always be able to adapt to the needs and demands of their employees," he says.
As part of all this, Immofinanz has transformed five of its local office buildings based on an international office concept it calls myhive. The idea behind it is to offer tenants what it calls a desirable social space rather than a simple workplace.