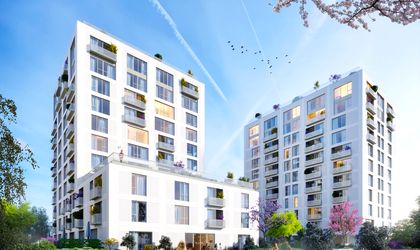 After building a brand in the office segment, Romanian real estate developer Forte Partners will accelerate its investment in the residential sector in Bucharest, having delivered three boutique buildings of luxury apartments in the city center.
The company has already announced that it will invest EUR 37 million in a residential project in north Bucharest that will have 352 units.
Geo Margescu, founder & CEO of Forte Partners, told BR in an interview that the entire Aviatiei project will be completed at the start of 2019, with 40 percent of the first phase having already been sold. He also described how the company had decided to get into this segment.
"Only recently, at the beginning of last year, we decided to expand the focus from offices to residential too. It was not easy. We believe that there is great demand on the residential market and a lack of good quality products. This is why we started a new department, within Forte Partners, and we wanted to take on the whole learning curve.  We didn't want to make mistakes jumping into big projects from the beginning, therefore we did small projects. We've seen the cycle of such a project and now we are ready to deliver ones with hundreds of units, Aviatiei being one of them. All the others we have built so far have been sold, but they were smaller projects on the high end of the market," said Margescu.
The project is designed to have four 10-storey apartment blocks. The building footprint stands at 3,700 sqm, while over 11,000 sqm will host plazas, alleys, access roads and sports facilities on the grounds of the complex.
Exploring mixed-use projects
Margescu says that Forte Partners will not stop here and new projects will be made public in the residential sector in the near future.
"We would like to develop some more. We are inventing our opportunities; we do have some land of our own and we are actively looking for new plots. We'll announce another residential project maybe at the beginning of next year," said the executive.
He added, "We don't have a timeline of announcing one project after the other, but we are very committed to the market and we would like to capitalize on what we have done so far, both office and residential, to continue this success story of ours, and to keep on making good quality projects."
With the company already developing office projects in the central and central-western parts of Bucharest, the core question is whether Forte Partners will take a strategic step into developing buildings that also include residential components. Key players in the property sector have kicked off mixed-used projects in Bucharest and other large cities such as Timisoara and Cluj-Napoca. Investors say they are looking to build communities in which people spend little time traveling from home to work, giving them more time to spend with their families and on leisure activities.
This is something that has caught Margescu's eyes, and he says that Forte Partners is thinking of doing such projects, although it's not easy.
"We do see the value of mixed-use projects, when they are possible. Some of our future projects have both office and residential components, and a bit of retail," says the executive.