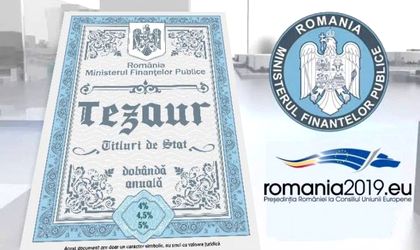 The Romanian state will start trying to attract more resources from its population starting on Monday, through three issuances of Tezaur state bonds with 2, 3 and 5-year maturities and annual interest rates of 4, 4.5 and 5 percent, respectively.
Last year, the state aimed to borrow RON 4 billion from the population, of which it managed to attract only half. This year, however, a target has not been made public, but considering the fact that no state bonds have been issued for banks, it is clear that the authorities are hoping for as many Tezaur bonds to be purchased as possible.
According to Hotnews, individual investors have said that they were waiting for better issuances and that the interest rates are too low, so they might consider waiting for future issuances, especially since we haven't yet seen the full effects of OUG 114 and the "greed tax".
State bonds can be purchased as follows:
Between February 4 and 22 at State Treasury units
Between February 4 and 21 at Romanian Postal Offices in urban areas and until February 20 at those in rural areas
Revenues from these bonds will not be taxed.
According to the Finance Ministry, individuals who are at least 18 years old are eligible to subscribe, with no cap on the investment amount.
Investors can also cancel their subscription until the end of the subscription period, after which the investment is irrevocable.
State bonds will be issued in a non-material form and have a nominal value of RON 1. Interest rate is annual, payable at the dates noted in the issuance prospect.
The state will continue to issue bonds for the population throughout 2019, with a three-week subscription period each month, while maturities will be established based on the interest shown by investors.