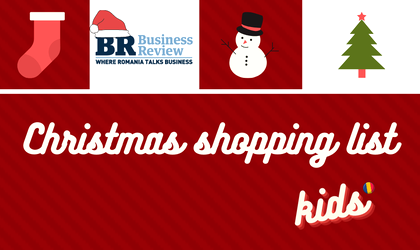 With some cities in lockdown and a pandemic crisis in place, with the number of cases increasing every day, Christmas Shopping List will be a bit of a challenge for everyone. Up until now, small gatherings are still permitted, so maybe you should plan this vacation for family only. But Santa will find everyone, so Business Review made a list of shopping ideas for the loved ones.
This year's list will focus entirely to Romanian entrepreneurs and Romanian businesses in order to sustain small businesses. Buying locally also helps keep money circulating in the community, while the local economic return from independent businesses is on average 48% of revenue from independent businesses. Chain retailers, by contrast, recirculate only 13.6% of their revenues in the communities where they do business. When you factor in buying local products at a local independent store, that percentage is even higher.
BR's Christmas Shopping List: gifts for kids
Although Disney universe are always a good idea for a present, there are a series of Romanian shops which offer a variety of other type of toys and goodies for kids.
Christmas Shopping List: gifts for kids – clothes
Quality materials and organic fabrics should be a point of interest for each and every person who is responsible and thinks about sustainability. Check Iridor, Sipet de sidef, Davex Wool, ROM Baby, Andreeatex, Condra, Moko Fun, Meg Wi Baby, Mini Rock, Fici + Mimi, Tiny Turle, Woolver, Lali.
Christmas Shopping List: gifts for kids – wood products
Wood is one of the most fascinating materials which can be used as toys or integrated in educational activities for the kids, not to mention small pieces of furniture. Check out: Mormi, Lemnivor, Atelierul Leea, Mesterel, Pojga Toys, Atelierul Mari si Mici, Bumbu Toys, Sezi, Vulps Toys, Modern Crafts.
Christmas Shopping List: gifts for kids – online stores
Online platforms help us out because e-stores are easier to check, compare and of course, takes a very little time to invest vs offline experience, which is not so recommended these days. Find out a series of Romanian but also international brands of sustainable and trustworthy brands on De prin Romania, Decor pentru copii, Magazinul Zurli, Cai verzi pe pereti and Cate-n luna si in stele.
Christmas Shopping List: gifts for kids – activities tools
Kids should have fun while doing their activities. For more creativity, try Cosanzeana, Titia, Cutia lui Acum.
Business Review will continue Christmas shopping list every day until almost Christmas. Please buy responsible and try to offer something for those in need. This Christmas is going to be even more special. If you know a business that can be featured in one of our lists, please contact us. Read all our Christmas Shopping Lists here.