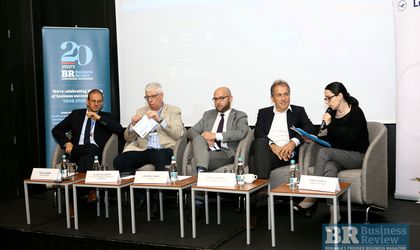 Representatives of the Belgian investment community active in Romania suggested that the country needs a political leader that can replicate the success of French president Emmanuel Macron.
"You need a Macron – you need someone to bring people back – a young person who can create a vision for the future, why people should stay here," said Johan Gabriels – Board Member – Treasurer, Belgian Romanian Chamber of Commerce | Country Manager Romania & Bulgaria, Ebury, during BR's Country Focus Community Forum.
"You need somebody with a vision," he added.
Foreign direct investments in Romania have reached EUR 4.5 billion in the past few years, and Belgian investors are among the largest foreign investors, with about EUR 2 billion.
Alain Schodts – Executive Director, Belgian Romanian Chamber of Commerce
To explain to an investor what it means to come to Romania, you'll have to explain both negatives and positive
It's a country with a lot of potential, but there are also a number of negatives
It's very strong for service-providing companies, especially real estate, logistics
What would attract companies to come to Romania – first the language, because Romania is in the group of the francophone countries
Workers are very flexible, high level of education, language skills
However, governments and state representatives keep changing and we as investors always have to talk to somebody else
It's the perfect time to do some good marketing for the company
Ivan Lokere – CEO, Alinso Group
One good thing about Romania is the resilience of the people, and it also has strong geographical advantages
Historically Romania has had a strong educational focus and a strong engineering capacity
Companies came for the cheap labour, and remained for the quality of the engineers they hired
There are also challenges – the main issue is that too many highly educated Romanians want to go to other countries, but some also come back and use their foreign experience to develop new things here
Romanian government must soon solve the infrastructure problem – it's one of the reasons why there's so much emigration – people in Moldova have to move to other countries as no businesses relocate there due to the lack of infrastructure
Companies from abroad, especially from US, see that it's quite difficult to reach different towns and areas – if this problem is solved there will be high potential to foster growth
Romanians complain about their country – they should be more confident – the media always describes the country as having problems – all countries have problems
When we try to attract foreign investors they are always pleasantly surprised, but there are not enough tourists in the country – as more tourists come, it will be easier for companies to come to Romania
You only promote yourself as a cheap labour country but you need to highlight all the other great things you have to offer
In terms of competitiveness with countries in the region,  Romania's competitiveness has declined – mostly due to infrastructure and quality of life, including healthcare
If you want to convince foreign companies to invest they know the biggest hassle is to find workforce
Hearing how Romania is promoted in its own media is disappointing
Self-fulfilling prophecy – better promotion will turn into more investments – an international media campaign can make Romania more successful
Belgium was once one of the poorest countries, but invited Anglo-Saxon investments, worked hard and today Belgium is a very wealthy country and Romania has the same potential, or even better due to higher population, better position
Profitability in Romania is coming up to international levels – foreign companies can't be attracted if they expect low profitability
In Belgium, family-owned businesses never take the money out of the business, they leave it for the next generations to grow and prosper
If business people in Romania can be convinced to keep money in the company to grow and if the government can be more supportive for entrepreneurs you can create international companies that will bring value for Romania abroad
Romania is too dependent on foreign investments. Belgium was in the same situation, but they learned from international companies and made their own businesses and now they are flourishing
Due to globalization, companies are moving more often to new places, which is why it's important that Romania promote itself more and attract these companies
Digitalization – it's easier for companies to relocate and set up new businesses
Main reasons to come to Romania as an investor: location; potential of tourism (although it's a limited economic factor, it may do a lot to increase the country's competitiveness); the people – they are educated and good workers
Main negative points: the negativism; the infrastructure, but it's easy to change.
Jeroen Fabry – Business Unit Manager, H. Essers
Romania's geographical position is a huge advantage – connection with Constanta harbour, the Danube – it could be used for transport ways and it can become a European logistics hub
Not just highways are needed but also railways which we use a lot
We are not necessarily politically dependent, but there needs to be willingness to listen to the private sector
A lot of income still comes from transit – Romania is a transit company, everything going to Bulgaria, Greece, Turkey has to pass through Romania but it's still difficult without highways – and now, Serbia can take business away from Romania as they have new highways ready
Workforce – not much initiative to really do something about the exodus of workforce and getting them back to the country – how?
Everyone says we'll bring them back by offering good salaries, but I don't agree, you need education and healthcare before salaries
Inflation is unbelievably high, unemployment unbelievably low, zero growth q/q
We can't build Romania up in one year – what is lacking in this moment is the confidence in today's politics and I think it's one of the main reasons why people leave, and it can be changed in the short-term
Short-term – highways can be solved, projects can start – people see it, get confident
Long-term – healthcare and education
Today there are no long-term strategies both from government and companies – that has to change
We as investors can pressure the government to make the needed changes and make Romania more attractive
There are natural resources in Romania that are not exploited
The economy is retail-driven, there is no balance between production and retail, and this balance does exist in other European countries, while retail dictates everything in Romania
How healthy is pushing an economy by retail? We should attract long-term investors
Johan Gabriels – Board Member – Treasurer, Belgian Romanian Chamber of Commerce | Country Manager Romania & Bulgaria, Ebury
Belgians promote Romania more than Romanian people do
When I left Belgium they were making fun of me for going to Romania
The first thing Romania needs is marketing – promoting itself
Romania has potential but it needs to act today
There are a couple of big advantages: the location – access to a large population
The first company the Chinese see when they come to Europe is Romania
Let's stop talking about infrastructure – just start doing it, now.
You have a lot of access to low-carbon energy sources – solar, wind, water – you have it better than so many other countries, so lucky from a location pov
Western European companies care about having a low carbon footprint
You need a Macron – you need someone to bring people back – a young person who can create a vision for the future, why people should stay here
Why FinTech – because bankers aren't doing the work they should be doing – a different way of proposing financial products – some banks are more open – fintech will happen
There's a perception among Romanians that you're inferior to other countries but you're not
People see that FinTech is the future. Apple, Google will be there will their financial products.
The employment rates will continue to drop in the banking sector and people will keep moving to a more innovative, high potential sector like FinTech; we haven't seen this much yet in Romania but it will happen at some point
Three positives and one negative for investing in Romania: great location from the point of view of climate change dangers; the capability for low-carbon energy sources – use it for promotion; the people – there are intelligent people, bring back the people who are abroad. The negative is the lack of leadership – from politicians, from the business environment.