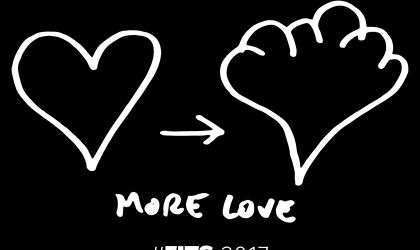 Sibiu International Theatre Festival, known also as FITS,  just announced that over 70,000 persons have attended daily in the first three days of the festival. I arrived last night and the city centre was overcrowded by people who were enjoying the street shows. Curious eyes, mesmerized tourists and amazed kids were simply enjoying the shows.
But what's more at this festival besides the street shows?
"The 24th edition of FITS proposes a global meeting of the artists and the audience, under the sign of love. We set up a competition with ourselves, i.e. that the Festival grows both qualitatively and quantitatively from one year to the other, we are presenting 503 events from 72 countries in 71 venues, with an estimated average number of 68,000 spectators per day. Besides the sections created over time, (…) this year we are adding organ concerts in Transylvanian churches and a section of performances for the NATO soldiers in Romania," sums up Constantin Chiriac, the president of this festival.
Mikhail Baryshnikov, Beijing People's Art Theatre, Pippo Delbono, Andalusian Flamenco Ballet, Silviu Purcarete, Yamamoto Noh Theatre, Robert Wilson, Brenda Angiel Aerial Dance Company, Batcheva, Kibbutz Contemporary Dance Company, Vertigo Dance Company, and many many others can be seen on the streets of Sibiu, presenting their performing arts.
"Theatre is a special type of love. Or a pure type of truth. For theatre brings us all together – actors, directors, stage, costume and light designers, spectators- so that, during the show, we are all lifted somewhere above time. In opens our eyes in a flash, and gives us the power to be better people when facing everyday shortcomings," says Ionut Vulpescu, the Minister of Culture and National Identity about this edition of FITS.
If you didn't book the tickets in advance, you have to know that besides the indoor theatre, dance, circus and music performances at FITS you can also take part in the outdoor street performances, play readings, special conferences, book launches, workshops, film screenings, the drama and art management universities convention or the Sibiu Performing Arts Market.