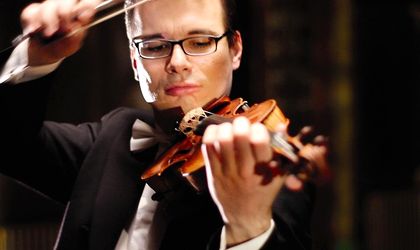 Romanian violinist Alexandru Tomescu will be invested as Korea's Goodwill Ambassador, at tonight's celebration of the National Day of the Republic of Korea. The ceremony will take place at the Romanian  Athenaeum, starting 18.00.
Tomescu will deliver  a violin concert with Korean artists. The Romanian violinist speaks fluent Korean, recently being the winner of the Korean speeches contest.
Alexandru Tomescu is the violinist who has a mandate to perform on the only official Stradivarius violin in Romania until 2012. Tomescu is one of the young leaders of classical music, with an impressive career receiving both national and international recognition.
He received the famous violin in 2007, when it was awarded to him following a contest, with the right to use it for five years. The well-known violin belonged to Ion Voicu, and his family donated it toRomania's Culture Ministry.
Alexandru Tomescu is known for having played the violin in unusual places: in front of a building in ruins, in a metro station, in a forest and to raise funds for various causes.
Oana Vasiliu