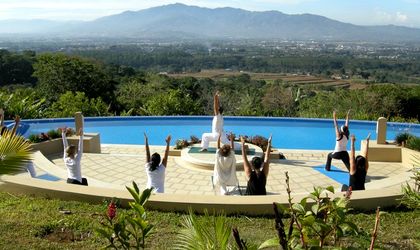 Three major tour operators, Happy Tour Group, Cocktail Holidays, and Paralela 45, have reported increases in their sales of Easter travel packages of between 10 and 20 percent. 
"For us, this year is better than 2017. We started selling Easter packages immediately after New Year's and have recorded a 15 percent increase in demand for Easter 2018 compared to last year," Maria Goicea, Cocktail Holidays marketing director said.
According to Goicea, over 1,000 tourists chose Cocktail Holidays for their Easter holidays. They bought over 500 de tourist packages for destinations such as Egypt, especially Sharm El Sheikh, Jordan, Israel, Greece, Turkey, Portugal, United Arab Emirates (UAE), and Dubai in particular. The cost of an Easter package starts at EUR 290 per person, and the average cost stands at EUR 730 per person, with flights, accommodation, health insurance and taxes all included.
The most sought after Easter holiday destinations in 2018 for Cocktail Holidays were Athens, Istanbul, Lisbon and Egypt.
Romanians take more holidays
Daniela Toncu, Head of leisure Happy Tour Group says: For Easter 2018, we recorded a 20 percent increase of demand for holidays. 2018 is a better year, and follows the growth trend recorded in the past years, of at least 10 percent. Romanian tourists started taking going to more trips per year, especially during the holidays. So, for Easter 2018, we recorded a 10 percent increase in the number of tourists/holiday packages, compared to 2017.
For city breaks, Happy Tour Group clients spent on average EUR 500 per person, and for a 7-night vacation is EUR 800 per person, with with flights, accommodation, health insurance and taxes all included.
The most popular destinations for Happy Tour clients were Tel Aviv city breaks, with visits to Jerusalem included, and Dubai. "Romanians choose these destinations constantly, but the interest was higher during the Easter holiday, because they are warm destinations during a relatively cold weather period in Romania, and they can sunbathe, are relatively close to Romania (it takes 2 hours and a half to Tel Aviv and 5 hours to Dubai), are accessible price wise and are cosmopolite destinations, comparable to those in Europe."
In Europe, the list of destinations includes Barcelona, Lisbon, Istanbul, London, Athens, Rome and Paris (Disneyland Paris).
Friday off spells advantages
The fact that Romanian authorities decided to make the Friday before Easter free for all employees has helped with sales, Dan Dumitru, marketing manager Paralela 45 tells BR. "This year we recorded a 10 percent increase in sales of Easter holidays, compared to last year. Holidays abroad were particularly popular, with sales going up by 20 percent compared to 2017, as tourists went for warm weather destinations.
"As regards the 2018 sales increase, this was a better year also due to the government's decision to make Friday before Easter a free day. If so far Romanians found it more difficult to take a holiday, now the Easter holiday extended, and the 4 free days give us an advantage."
"For the Easter holidays we had a 10 percent increase in the number of tourists, respectively a 10 percent increase in the packages sold for the Easter holiday.
In Romania, for a holiday in the mountains, the average cost was RON 900 for two people, with accommodation for 4 nights. Abroad, the average cost of a holiday package in Antalya was EUR 700 per person, for a 7-night holiday with flights, taxes and all inclusive meals.
According to the Paralela 45 representative, Jordan, Russia and Antalya were the most popular destinations for Romanian tourists who traveled for the Easter holiday. "Overwhelmingly, they chose to spend Easter abroad. One of the main reasons was concern about the weather, which was unpredictable in Romania around Easter time, therefore they chose warm weather destinations abroad."
Those who chose destinations in Romania opted for Baile Herculane and Calimanesti Caciulata, Dumitru tells BR.