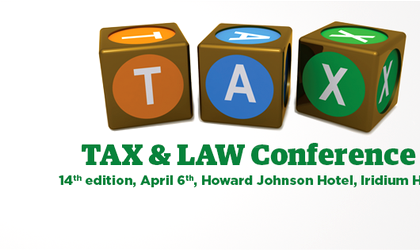 Business Review organizes on April 6 the 14th edition of Tax & Law, an event dedicated to the most important novelties on matters related to taxation and legislation. The event will take place at Howard Johnson Hotel in Bucharest, Iridium Hall, starting with 8:30 am.
With a tradition of over 13 years, Tax & Law is the first forum of its kind held in Romania. focusing on debates and practical applications for the business environment.
The conference is divided into two sessions in which there will be discussed some of the most relevant issues of the moment, including: the latest news on VAT and transfer pricing, tax inspection and fraud checking topics, changes of the Fiscal Procedure Code, changes in taxation of individuals and in taxes applied to freelancers and more.
During the discussion panels will take the floor specialists such as: Dragos Doros, Director, Taxation Services, KPMG Romania, Gabriel Biris, Partner, Biris Goran SPARL, Dan Schwartz, Managing Partner, RSM Scot, Mihaela Mitroi, PwC Partner, Tax and Legal Services Leader Romania and South East Europe, Luisiana Dobrinescu, Lawyer, Dobrinescu Dobrev SCA, Florin Gherghel, Head of Tax Department, Noerr Finance & Tax, Mitel Spataru, Tax Manager, FiNEXPERT, Ioana Höckl, Partner, ZRP Tax, Silviu Badescu , Tax Director, NNDKP Tax Advisory Services, Cristina Saulescu, Tax Manager, PKF Finconta, Alexandru Aron, Executive Director Freelancers Association and Ministry of Finance representatives.
The event will also feature a series of workshops on related topics.
Attending this edition will bring you 7 CPD units offered by ACCA and 5 hours of professional training offered by CCF.
Staff