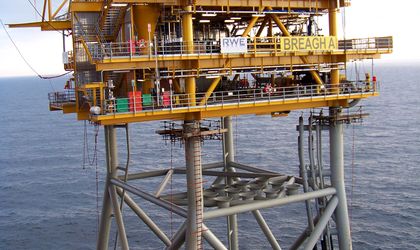 Sterling Resources announced on Thursday that it has entered into the "Romanian Sale Agreement" to sell its entire Romanian business to Carlyle International Energy Partners (CIEP), an affiliate of The Carlyle Group.  The sale includes license blocks 13 Pelican, 15 Midia, 25 Luceafarul and 27 Muridava, structured as a corporate sale of the company's wholly-owned subsidiary Midia Resources, and is expected to complete around the end of Q2 this year subject to satisfaction of certain conditions typical for a transaction of this nature, including statutory Romanian approvals and the consent of certain participants in the Romanian concessions.
CIEP will pay a cash consideration of USD 42.5 million (EUR 38.6 million) to Sterling at completion, prior to any Romanian tax liabilities.  Concurrent with the above sale Sterling has entered into the "Termination Agreement" with Gemini Oil & Gas Fund II to lay-off an investment agreement signed with Gemini in 2007.  Under the investment agreement, Gemini provided funding to Sterling towards its drilling costs of the successful Ana discovery well on the Midia block in return for an entitlement for Gemini to receive payments equivalent to a share of Sterling's gross revenue from any future production from a designated area within the block.
Upon completion of the Romanian sale, Sterling will make a termination payment to Gemini comprising a cash consideration of USD 10 million (EUR 9 million) out of the proceeds received from CIEP and issuance to Gemini of 60,372,876 common shares of Sterling (the "Gemini Shares") having a market value of USD 7.5 million (EUR 6.8 million).
Following the issuance of the Gemini Shares, Sterling's issued capital will total 441,572,956 shares, an increase of approximately 15.8 percent, of which Gemini's shareholding will be 13.7 percent.
Net of the Gemini cash payment, Sterling will receive cash proceeds of USD 32.5 million (EUR 29.5 million) from the Romanian sale, prior to any Romanian tax liabilities.
Pursuant to the Amended and Restated Bond Agreement dated December 14, 2014 (the "Bond Agreement") relating to Sterling Resources' senior secured bond (the "Bond") and the Romanian Sale Agreement, the net cash proceeds will be applied according to a defined procedure which, in summary form, will fund advisory costs and any transaction-related taxes, pre-fund the next amortization and interest payment due to Bondholders to the extent not already pre-funded, fund the redemption of Bonds and provide unrestricted cash to the company.  The next such amortization and interest payment is due on April 30, 2015, but as previously reported the company does not expect to have sufficient funds to make the payment in full on that date.  As completion of the Romanian sale is likely to be after this date, the company is considering options to improve its short term liquidity position.
Moreover, Sterling's entitlement to further contingent payments from the completed sale of its 65 percent interest in a portion of the Midia Block in the Romanian Black Sea to ExxonMobil Exploration and Production Romania and OMV Petrom., which was announced on January 29, 2014, is unaffected by the Romanian Sale Agreement.
Sterling holds a 65 percent operated interest in blocks 13 Pelican and 15 Midia, a 50 percent operated interest in block 25 Luceafarul, and a 40 percent non-operated interest in block 27 Muridava, all in the Romanian Black Sea.
Sterling is a Canadian-listed international oil and gas company headquartered in Calgary, Alberta with assets in the United Kingdom, Romania and the Netherlands.
Staff