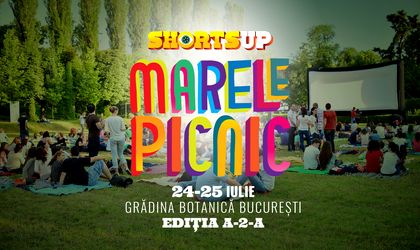 In an event called The great picnic, ShortsUp will be projecting short movies in the Botanical Garden on July 24 and 25, project representatives say. This will be the second edition.
Activities are programmed to start at 18:00 and will include prize winning short films, live music and games.
Different movies will be shown during the two days, starting at 21:30 and ending at 23:30. Before that, guided tours through the Botanical Garden will be organized and visitors will have live music and a food court to enjoy.
Tickets can be purchased in advance through Eventim and MyTicket at the price of RON 20 / night or RON 35 / subscription and will also be available on spot for the price of RON 25 / night or RON 40 / subscription, according to seat availability.
If the weather will not allow watching movies outside, the event will be rescheduled for the following weekend, July 31 and August 1.
Some 2,500 people took part in the first edition of the picnic and 4,000 people watched movies on the grass during the Long Night of Short Films in 2014. A full program of the event can be viewed here.
Natalia Martian