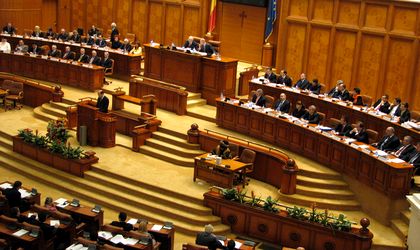 The Parliament approved on Tuesday the set-up of a special commission tasked with debating the mining draft bill on the development of Europe's biggest open pit in Rosia Montana by RMGC miner.
Cristian Dumitrescu, vice-president of the Senate (the higher house of Parliament), said a joint commission of the Chamber of Deputies and the Senate will analyze the bill, outlining a timeline for the vote.
MPs will be able to submit amendments to the bill by October 1 and the special commission is set to come up with a report by October 20.
The amended bill will be debated in Senate starting October 21. A final decision should be made "around November 1", when the bill gets in the Chamber of Deputies (the lower house in Parliament) for the final vote.
Members of the special commission will go on a two-day visit in Rosia Montana next Tuesday to meet the miners, NGOs, and representatives of local authorities and companies. Upon their return, the MPs will speak to protesters in the Universitatii Square, according to Darius Valcov, who chairs the commission.
Valcov, who is a senator, is a member of the left wing PSD party. The MP is president of the public administration, territorial organization and environmental protection commission.
The controversial gold and mine project at Rosia Montana is scrutinized by Europe's top brass. As people in Romania and abroad took to the streets in growing numbers, Janez Potočnik, the EU commissioner for environment, got into touch last week with Romania's environment minister Rovana Plumb to discuss the project.
"For now no permits have been issued, the environmental impact assessment hasn't been concluded, so the European Commission (EC) can't make any move," said on Wednesday an EC spokesperson, quoted by Agerpres newswire.
The PM recently said Romania's Ministry of Environment will make a decision following the vote in Parliament.
"The environment permit, according to European and Romanian law, should have been given in the last 15 years. Anytime," said the PM, quoted by Mediafax newswire.
Ovidiu Posirca