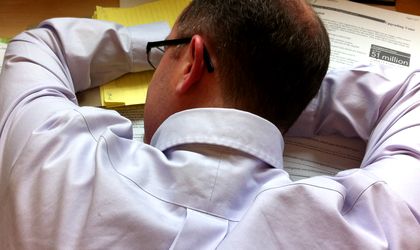 Achieving the elusive work-life balance has been a preoccupation of many workers in recent years. But how do we define what it is and, more important, how can we then achieve it? Business Review talked to specialists to find out.
Anda Sebesi
More and more businesspeople in Romania are saying that their work-life balance has improved, according to the work-life index launched by Regus this month. Although they are working harder than ever, people are enjoying their jobs and over 40 percent of respondents believe that they have enough time to spend at home or doing their own thing. Researchers found that the local index posted an increase of 14 percent regarding work-life balance between 2010 and 2012 (to 116 at present, below the global average of 124). The study also found that the majority of employees enjoy their work more (79 percent) while 86 percent of them say that they achieve more at work than in 2010, confirming the connection between work-life balance and productivity.
The index measures job satisfaction indicators and respondents' view of their general work-life balance along with current practices like working hours and commuting, as part of a global survey that was conducted on 16,000 professionals from more than 80 countries.
Experts say that companies that intend to retain and hire the best talent cannot afford to ignore the value of those elements that maintain work-life balance while the economy recovers and the labor market becomes more dynamic. In addition, many businesses now concentrate on results, which has made them reject traditional work practices in favor of increasing their efficiency by offering more flexibility to their employees. "Allowing employees to work in their preferred way is recognized as a significant additional factor in promoting productivity and wellness," says Ramona Iacob, market team leader at Regus.
What is the work-life balance…?
Dana Burghel, executive, team coach and work-life balance coach at Oblio Learning, says that work-life balance is when you love your job and life partner equally. She thinks that the lack of such balance leads to 10-14 hours of work, the belief that there is never enough time, that you need to work harder and harder and you can see your family only at weekends.
"The line between work-life balance and a lack thereof is variable. The way we see this balance depends a lot on our interests, current preoccupations, life and stage of our development," says Bianca Moraru Demeter, project manager at Professional. She adds that it is crucial for each of us to ask ourselves what we want to achieve and to consciously assume all the risks and consequences of our decision. "A significant issue is to avoid absolute parameters. Setting the balance often depends on the way we understand the terms 'perfect', 'good' or 'satisfying'. Achieving the perfect work-life balance is an ongoing process and we must not forget that performance, in one's personal and professional life, involves both advantages and disadvantages. Often we tend to focus solely on absolute advantages," says Demeter.
…and how do we achieve it?
The first step in achieving work-life balance is to be aware of your current situation. Everyone has the same amount of time; it is the energy we invest that differentiates us from others. "Working with athletes in coaching programs I noticed that it is crucial to manage your own energy. If you manage to understand and be more careful at your body you will have better results with less effort," says Burghel. In her opinion another step is to start to learn how to use the "stop" button and stop using the "fast forward" one. "Achieving balance requires us to consider all the aspects of our lives: physical, mental, emotional and spiritual. I always start in work-life balance programs (and not only them) with an analysis of the current situation of all these areas in order to see where we need to change something," says Burghel.
Specialists say that it is very difficult to achieve a perfect work-life balance when you want a successful career and a perfect family life. "It is possible to do it but it is a temporary balance. As we change our perceptions of a successful career or a happy family we create a new definition of this balance," says the Professional representative. She adds that work-life balance has a positive effect on one's professional results and performance and also on family life. "This is an issue that has become a concern for companies too and some of them are trying to support their employees," adds Demeter. She warns that work-life balance supports performance as long as it doesn't produce extensive inertia. "Many of us think that climbing the career ladder is the only version of success and professional and financial satisfaction. We can't ignore that family problems affect our professional performances and we can't forget that the time invested in achieving career or financial objectives affects our personal life," adds Demeter.
Elsewhere, Burghel thinks that work-life balance improves both the professional and personal life. "Although it may seem that we are giving less at work, often 'less is more'. We are less stressed and more attentive, involved and cheerful," she says. In her opinion, such a balance helps free us of perception that "time passes too quickly", when we realize that instead of time, energy is our most precious resource. "Results go from less stress and better communication to achieved or exceeded business goals and on the back of that with less effort than usual," adds Burghel.
Crisis threatens the balance
The current economic crisis has influenced people's work-life balance a lot by creating an emotional and mental imbalance. Thoughts like "I could lose my job" or "I could lose my customers" have an impact on all areas of life. "I noticed that this downturn has driven us toward two 'extremes'. Either it bedeviled us so we care so much about our job or business that we can't place store in people, or it oriented us toward family, personal development courses, coaching or a much better job," says Burghel.
Generally promotion comes with more responsibilities at work, managing teams and more complex objectives to achieve. These involve more time spent at work and can make it difficult to switch off at home. "From this perspective we can say that managers are more exposed to potential imbalance. However this can also happen to someone who holds an executive position and wants to distinguish him or herself," adds the Professional representative.
The entrepreneur's perspective
For Florin Scarlat, general manager at Bit Solutions, work-life balance is when you are in one of the two states and you are completely dedicated to it. This means that when you are with your family work comes second, and while you are at work you operate at maximum efficiency. "I am an entrepreneur and I have a very stressful life from all perspectives. Generally in business and especially in entrepreneurship if you don't manage to step outside your problems they will overcome you and you won't be able to move on," says Scarlat. He adds that while at first it was very hard for him to find a work-life balance, in time he understood that he needed to delegate more.
But Daniela Tudor, chief inspired officer at Buticul de Inspiratie, argues that it is difficult to separate the professional and personal very clearly when you do things that you like. "From this perspective  I don't think that this makes sense when you are an entrepreneur because business is part of your personal life," says Tudor. She adds that she has managed to achieve a work-life balance through a necessary yet difficult process of introspection. "I don't believe in the 'I don't have time' excuse. We all have the same time but the challenge is to decide what you do with it," she concludes.