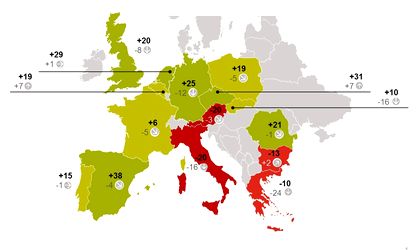 Romanian consumers expect an economic growth, although economic forecasts declined by 1.1 points to 21.3 points in the current second quarter, shows GfK consumption climate study.
Year on year, June brought a significant gain of nearly 32 points in the economic growth index, further shows the study. Under favorable economic conditions, Romanians also expect a slight increase in wages. The economic outlook index recorded 18.5 points in June.
However, the standard of living in Eastern Europe countries continue to be very low. Revenues are just enough to allow employees to pay for their daily needs. Therefore, it is no surprise that the buying trend index remains in the negative range with -11.5 points, although increased by 4.7 points in the second quarter. Major purchases remain almost impossible for most Romanians.
The study covers five indicators selected for the economic outlook on prices and incomes, as well as buying and saving trends. The basis for determining these indicators is given by the so-called core values. The share of consumers who answered in the negative is subtracted from the share of those who gave a positive response. In a later stage, this core value is standardized and converted using a common statistical process so that long-term average of the indicator is 0 points, with a theoretical range of values ​​between +100 and -100. However, empirically speaking, most of the values ​​since 1980 ranged between +60 and -60.
The study surveys about 40,000 people in 15 countries monthly. These respondents are representative of the adult population of the European Union. On the one hand, the reasearch addresses the macroeconomic situation of each country and, on the other hand, the situation of individual households.
Natalia Martian