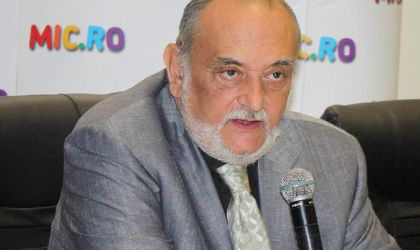 Dinu Patriciu passed away in London on Tuesday morning, aged 64. The businessman suffered from a progressive liver disease and was living in London since January 2014 where he was being treated for cancer.
His family said that he died from a lung infection and was surrounded by family members.
The Romanian businessman was the 597th richest man in the world according to the Hurun Global List 2014. According to the ranking, Patriciu had amassed a fortune of USD 2.9 billion dollars. Most of his fortune can be attributed to his dealings in the oil industry.
Dan Costache "Dinu" Patriciu led an investor buyout of the previously state-owned Romanian oil company, Rompetrol in 1998. Nine years later, in 2007, he had built the company into a  USD 8.6 billion turnover multinational midstream and downstream oil company before selling to Kazakhstan's state-owned energy operator, KazMunaiGaz, in 2008.
Patriciu was sent to court in the Rompetrol file in 2006, being accused among others of manipulating the stock market, insider trading, offering inside information, embezzling and money laundry.  He was cleared of charges in 2012.
He owned Adevarul Holding media trust, which publishes Forbes Romania under license from Forbes Media LLC. He was also a prominent member of the National Liberal Party of Romania and a member of the International Advisory Board of the Atlantic Council, a US-headquartered think tank.
Since the sale of Rompetrol, Patriciu made investments in a number of business sectors including real estate through DinuPatriciuGlobalProperties, alternative energy, supermarkets, and media.