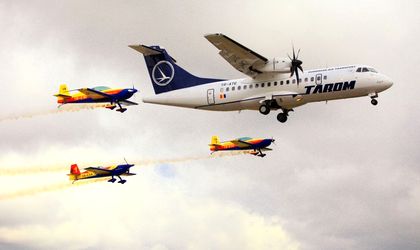 The Romanian Aviation and Air Force Day is celebrated on July 20. With this occasion, a series of events will be held between July 14 to 31, the Defence Ministry (MApN) reports.
An exhibition called "Arts in aviation" will be open at Painter Ion Taralunga Arts Gallery of the National Romanian Aviation Museum. It will comprise aviation-themed sketches and paintings (most by artist Ion Taralunga), as well as showcases of objects and documents created by pilots, sculptures, statuettes, and aviation-themed caricatures.
On July 18 a mock-up exhibition of the Vlaicu, Vlaicu I, Vlaicu II and Vlaicu III gliders will be held in aviation schools across the country, while the 90th Gheorghe Banciulescu Air Transport Base of Otopeni will host an open house event to showcase the history of the IAR-330 Puma helicopter and the C-27J Spartan, C-130 Hercules, Antonov AN-30 and IAR-99 Soim aircrafts. On the same day the Giarmata Airfield of Timis County will present an air show of IAR-330 Puma helicopters, MiG-21 LanceR fighters and C-27J Spartan transport aircraft.
On July 19, between 09:00 and 10:00, a military and religious ceremony will be held in Bucharest with wreath laying to the memory of aviation heroes at the Monument of Air Heroes at Aviatorilor Square. During the ceremony, IAR-330 Puma, IAK-52, C-27J Spartan, Antonov AN-30, IAR-99 Soim and MiG-21 LanceR aircrafts will be flown in an air show.
Also on Sunday, between 10:00 and 17:00, there will be an open house at the Bucharest-based National Museum of Romanian Aviation with an exhibition of significant items in the history of Romanian aeronautics: military aircraft, radiolocation stations, anti-aircraft hardware and surface-to-air missiles, mock-ups, uniforms, decorations and library documents.
A full program of the event can be found here.
Natalia Martian