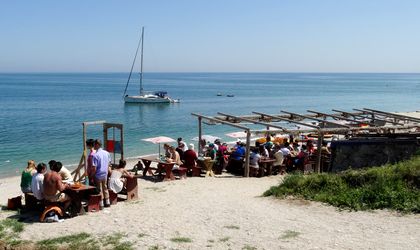 Demand for holidays both in Romania and abroad has dropped by 25 percent since May, says the Romanian Federation of Tourism Employers. Moreover, vacationers are down trading their holidays, looking for cheaper destinations and shorter stays, say travel agencies, a trend which is unlikely to change by yearend.
Simona Bazavan
No recovery is in sight for Romanian travel agencies this year, say industry representatives. Not only are Romanians spending less, if anything, on holidays, but independent of this, there is a growing preference for more flexible and individually customized vacations rather than the traditional full-service packages offered by tour operators.
After a good start to the year for early booking offers, demand for holidays both in Romania and abroad has dropped by 25 percent since May, representatives of the Romanian Federation of Tourism Employers (FPTR) said recently. The prolonged crisis and reports of future price hikes have made Romanians thrifty. Demand for expensive destinations and even for Turkey, a popular location among Romanian beach bums over the past few years, has been worst hit. What is more, demand for Turkey has slumped despite a lack of competition from North African destinations such as Egypt which are currently affected by social unrest.
Local travel agency Paralela 45 confirms the downward trend. "In general, the number of early bookings was up by about 25 percent so it was normal for a drop to follow, but we estimate it to be between 8 and 10 percent and not 25 percent," sales manager Corina Enache told BR.
In turn, the large majority of local holidaymakers are opting for nearer and cheaper destinations – so-called "stay-cations" – and are planning shorter stays. While last year beach holidays were for five or seven nights on average, this has dropped to between two and five nights this year, Daniel Truica, managing partner at Vola.ro, told BR. Demand has generally fallen for traditional package holidays offered by tour operators and charters, he said. In general, Romanians now spend more time than before deciding to buy travel services and many opt for a holiday in Bulgaria or the local beach resorts, after having previously been interested in charter packages which usually include flight and one week, all inclusive.
Budgetary constraints are the main reason for Romanians trading down to cheaper holiday options. "For beach holidays, most Romanians travel to Bulgaria and Greece. This year there has been a significant drop in demand for Turkey and for charter packages. Tourists are focusing more on accommodation-only packages and then travel by car," he added.
Best selling destinations at Vola.ro this summer are Thassos, Halkidiki and in general the Bulgarian seaside resorts, where tourists prefer all-inclusive packages at three-star hotels, said Truica.
At Paralela 45, the top-selling destinations in 2013 remain Bulgaria, Antalya and Greece. "For Greece we have registered more tourists than last year. Another change this year compared to the previous one is an increased demand for individual packages to Greece, to Thassos, Halkidiki, Kamena Vourla, Skiatos and Parga," said Enache. Paralela 45 reported a EUR 32 million turnover last year and says it will grow to EUR 34 million this year.
Eximtur confirms that there has been an increase in demand for Greece but, even so, Turkey remains the most popular destination. "The top five external destinations so far in 2013 are Turkey, Greece, Bulgaria, Spain and Italy. We have seen an increase in demand for Greece and a slight decrease for Spain," Lucia Morariu, general manager of Eximtur, told BR. Sales for Greece have doubled this year and there have also been rises in demand for local beach resorts. The agency's sales on this segment were up 40 percent in the first months of 2013. The average amount Eximtur clients spend on booking a package holiday has remained unchanged this year at around RON 910 (approximately EUR 206) as did the holiday duration – between five and seven days on average. Moreover, the number of tourists the company has reported is up by 6 percent y-o-y.
Last year Eximtur reported a turnover of about RON 157 million (approximately EUR 34 million) up from the level reported in 2008, the peak year for the local travel industry. This year too the company expects growth.
In summer, demand for city breaks lessens in favor of beach destinations, but otherwise Romanians are increasingly keen on this type of holiday, said Truica. "But by far, the most important trend we're seeing is a shift from the traditional packages offered by tour operators to dynamic packages such as city breaks. This is a trend we're seeing at European level which is becoming stronger in Romania as of this year," he added.
The average cost of a beach package holiday bought from Vola.ro this year is EUR 150 per person for five days, breakfast not included, while for city breaks it is EUR 200-250 per person for a three-day stay, breakfast and flight included.
The best sold destinations at Vola.ro are Paris, Barcelona, Rome and Venice, with a significant increase for Lisbon this year. The online travel agency reported a EUR 20.6 million turnover last year and expects a 30-40 percent increase this year, said Truica.
However, the local travel market has no reason for optimism. "Generally speaking, the tourism market on the whole can't recover this year. It can't do this so long as the crisis persists and a healthy and robust economic growth is not in sight, even if there are some optimistic indicators. And predictions about the growth of the economy can no longer be made for more than a year in Romania's present economic and political ecosystem," he concluded.