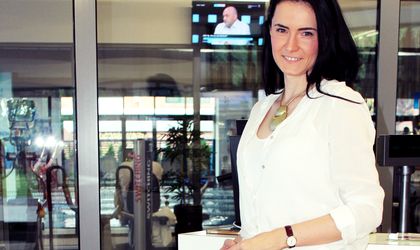 Club Moving entered on the local market in 2010, and now has fitness centers in Bucharest, Cluj, Iasi, Ploiesti, Bacau and Craiova, with more than 12.000 active members around the country. BR talked to general manager Delia Iliasa to find out why she started out in this field and how the firm helps customers achieve their goals.
How did you get started in fitness? 
It was one of those moments in life when you start something because it looks fun and you want to take it slowly, but then you discover it was meant to be. The funny thing is that it proved to be the best decision of my life and today fitness takes up more than 50 percent of my time.
What have been some of the biggest challenges over the years?
The first day at work in every new position, running in the Bucharest Semi-Marathon with my team and motherhood. I take every challenge seriously and I celebrate every achievement.
How do you create the programs for Club Moving?
By brainstorming. We are a team, so I consult my managers all the time. They provide essential information and this way I feel that I am in touch with all our customers. We also follow trends, and for this we have a sports department that I feel is second to none in this industry.
Do you have any standout clients in terms of transformation and/or lifestyle change?
I am proud to say we do. We have people who come and ask for their membership cards to be replaced because their current appearance no longer resembles the initial photo! But I am even more proud to see the majority of our customers leaving our clubs with a smile – this is the main transformation that we aim for: putting a smile of satisfaction on people's faces.
Is there one exercise that can help most people?
All exercise impacts our lives. Some say swimming is the most accessible and beneficial; others give this credit to jogging. I say that you should set a goal, achieve it and then celebrate. After that, repeat.
When trying to lose weight or get in shape, what goals do you set?
First thing first, I always set a goal. I take little steps because I know frustration is the cause of failure. What I do is set quantitative goals: run 5km, work out four times a week. I almost never work to a schedule it's all about the way I feel.
How do you stay motivated to work out every day?
My daughter is my motivation. I want her to grow up in a healthy, sports-loving environment. I want her to have a good example.
Why do you think so many people struggle to lose weight?
It is known that our lives are impacted by what we eat and by our habits. Unfortunately, as we see when we look around, habits are not always healthy. That's why it's a struggle: the habit loop. Change the routine and do something healthy in order to be happy.
 Staff