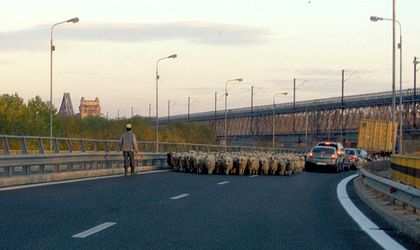 With new car registrations up by more than 25 percent to just over 36,000 units in the first eight months of this year against the same period of 2013, the government's plans to replace the construction of motorways with much cheaper express roads could negatively impact the strategies of carmakers Dacia and Ford, according to analysts.
The local car market is set to grow by 10 percent against last year, but this will involve a small gain in volume, according to Constantin Stroe, president of the Association of Automotive Manufacturers in Romania (ACAROM) and vice-president of the administration board at Automobile Dacia.
Data from the department of driving licenses and car registrations (DRPCIV) show that 57,710 new cars were registered in Romania in 2013, down 13.1 percent compared to the previous year. In the same period, registrations of imported used cards soared by 26.8 percent to 205,553 units.
Sebastian Ilinca, senior consultant at Ensight Management Consulting, said that the car market has to deal with several variables, such as buyer caution and the evolution of the economy, which will "suffer following the electoral year."
"The evolution will therefore not be that promising regarding value. The volumes could be relatively good, reflecting the drop in value per purchased vehicle," Ilinca told BR.
The two carmakers have also attracted a plethora of parts makers that supply anything from cables to batteries and speed sensors.
Destination: exports
Romania's car production chalked up a fresh record last year, growing by 22 percent to 410,000 units. The output of Dacia, controlled by French carmaker Renault, rose by 12 percent to 342,000 units.
Nicolas Maure, president and general manager of Dacia and general manager of Renault Romania, said earlier this month that Dacia has to remain competitive in the entry range in comparison to its competitors, while the industrial platform in Mioveni must stay competitive compared to other plants in the Dacia-Renault alliance.
Dacia has around 17,000 employees in Romania and reported a turnover of EUR 4.5 billion last year, accounting for 3 percent of GDP. Auto exports in 2013 amounted to 7.7 percent of the country's total exports.
The carmaker's sales rose by 30.2 percent in the EU including Romania in the first eight months, during which time the company sold 17,000 cars, giving it a market share of 33.1 percent.
In the last four years, Dacia has exported 90 percent of its production to more than 42 countries.
US carmaker Ford, meanwhile, more than doubled its production of the B-Max to 68,339 units last year compared to 2012.
The company had aimed to sell over 100,000 cars, but in the last three months of 2013 it had to grapple with lower demand on European markets, which forced it to suspend production several times at its Craiova plant.
In the first eight months of this year, Ford's car registrations in Romania rose by 51 percent to just over 4,600 units. Zoltan Brassai, general manager of Ford Romania, said in a statement he hoped the growth trend would be maintained to year end, so that Ford could reach a market share of 8 percent.
First car buyers get foot on the pedal
The government is also trying to lend a hand to the auto industry by helping young drivers buy cars. The program, known as First Car, will target 18- to 35-year-olds.
The state will guarantee 50 percent of loans up to RON 50,000 (EUR 11,350) taken out by individuals to buy new cars. The government estimates the program will generate annual sales of 20,000 units.
Constantin Nita, minister of economy, said that one of the program's main goals was to sustain the local production of cars, which would have "multiple effects on the horizontal industry."
Prime Minister Victor Ponta said the program eases young people's access to bank loans and targets those on a low income.
"I do not want any conflict to emerge between local producers and importers – obviously we cannot discriminate at all – but I would not like to hide my preference for national producers," said the PM earlier this month.
Lack of infrastructure sees operations stall
The lack of proper road infrastructure is also denting carmakers' export capabilities, according to commentators. For years, both Ford and Dacia have been calling for the construction of new roads, which would help them streamline the delivery of cars abroad.
The key road infrastructure projects sought by the carmakers are included in the Transport Master Plan. The plan, released this month, maps the country's priorities in developing road, air and maritime infrastructure. The Master Plan has also been requested by the European Commission, the executive arm of the EU, and is an instrument for tapping EU funds through to 2020.
In the Master Plan, the prospective motorway linking Sibiu and Pitesti has been transformed into an express road. Dacia has long been calling for the development of this project, which would allow its plant in Mioveni to remain competitive.
Stroe of Dacia told BR that if the road is not built, "there will be some dramatic consequences, at least for the automotive industry."
Ilinca of Ensight Management Consulting commented, "The infrastructure issues that are expected to continue after Romania officially gives up the construction of motorways will badly hit the medium- and long-term strategies of companies already present here."
He added, "Even on the short term, deterioration is expected, taking into account the falling competitiveness of the local labor market (in terms of price and lack of specialists, which will worsen due to demographics and the lack of clear future opportunities), along with the poor evolution of the local economy and infrastructure issues."
The lack of young specialists is challenge the local automotive sector is trying to deal with. Several new technical high schools have popped up across Romania, with help from the industry, chamber of commerce and the government, adopting the dual education system. Students enrolled in this program can practice in factories what they learn in school.
Potential shift in investments from Ukraine
Nadia Crisan, managing director of McGuireWoods Consulting Romania, the public affairs firm, said that Romania is more attractive in the context of events in neighboring Ukraine.
"The state aid project recently approved by the government and its implementation as soon as possible – I understand by October 15 – is an important signal for investors in the automotive sector, both those that are currently in Ukraine and are at the stage of reevaluation and companies that need to expand their capacities, especially as regards car parts," said Crisan during the launch of Priorities for Romania, a set of recommendations made by AmCham Romania, the business advocacy group.
"The automotive industry is not at present in a favorable situation. If in January these investors see a stable government and a president who can support Romania's interest close to an agreement with the government, we can talk about fresh investment on the back of these developments in the region," she added.
Ukraine currently hosts several producers making buses, trucks and commercial vehicles, most of them Ukrainian or Russians brands. The country also has a plant assembling cars for Skodas, while other plants were also working for international producers such as Hyundai and Subaru.
Close to 100,000 passenger cars were produced in Ukraine in 2011, according to a report by professional services firm Deloitte.
Ovidiu Posirca