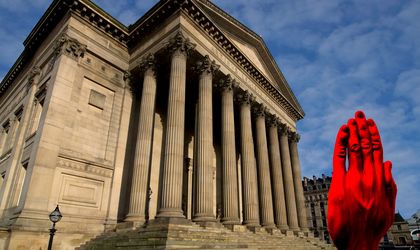 "The Middle Way" represents a monumental sculpture made by the Romanian young artist Bogdan Rata and it is being placed in front of St. George's Hall within Independents Liverpool Biennial 2014. The sculpture is 3,5 meters high and is made of polyester / polystyrene, synthetic resin, fibre glass and paint.
"Bogdan Rata is one of the most intriguing sculptors from his generation. His new hybrid realism is finding new genetic forms of human anatomy in search of a new posthumanism. Rata multiplies human parts (fingers, ears, and so on) and combines them into new life forms. The newborn creatures seem to result from strange experiments on human bodies in an esthetics lab", writes the Independents Liverpool Biennial about the Romanian artist.
They also note that Rata's works forge a contextual change of the anatomic detail through its obsessive multiplication, being particularly interested that his works surprise fear, confusion, uncertainty and corporal disorder.
Regarding his work, Bogdan Rata says that "I work with human fragments which I combine in order to create images with a strong emotional impact: frustration, fright, shame. I reinterpret the human body precisely in order to induce a state of confusion to the reader and to in a way force him to understand, from a different perspective, the contemporary human being. A finger can be stronger than a rifle, an ear more frustrating than an interrogation."
The statue is situated in front of St. George's Hall until October 26, 2014.
Photo courtesy of Independents Liverpool Biennial 2014
Oana Vasiliu