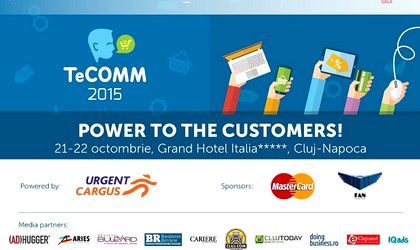 Save the date: 21st and 22nd of October! This is the 5th year when Cluj-Napoca becomes the center of the e-commerce & on-line strategies during the TeCOMM – eCommerce Conference & Expo.
About TeCOMM
TeCOMM is one of the largest ecommerce events in Eastern Europe. One of the most important International and National speakers will take part at the edition that will take place in Transylvania. During TeCOMM –  eCommerce Conference&Expo, the audience will have the opportunity to spend quality time and develop  business opportunities.
With more than 40 speakers, TeCOMM dedicates 2 days of innovation in e-commerce. The participants can register to the General Conference, that will include keynotes, debates & presentations, but also to workshops and case studies. Participants can attend 16 workshops in different rooms for Digital Travel forum and for Markday.
Event agenda
21st October – the 1st day of TeCOMM, dedicated to the General Conference, will include debates, presentations, and the Digital Travel Forum event, for those who are interested in the field of travel.
22nd October – the 2nd day of TeCOMM is dedicated toworkshops and case studies about e-payments, logistics, usability, analytics, conversions, SEO, PPC, UX design. This day has on its list the MarkDay conference, with specialized workshops in customer relationship, email-marketing, mobile-marketing, marketing strategies and social media.
TeCOMM will also have the ExpoZone developed to bring together the main e-commerce providers and help the participants take part at ideas and solutions.
Before its ending, TeComm – Conference & Expo will have a Gala Awards, with a special list of persons who took part in the development of the e-commerce industry during 2015.
Over 400 participants are expecting to join TeCOMM – eCommerce Conference&Expo at Grand Hotel Italia *****   in 21st and 22nd of October.
Power to the customers
TeCOMM Cluj-Napoca is the event interested in customers' loyalty and in providing online shops methods for 2016 best strategies.
This edition's concept is Power to the Customers, because the key to succeed in ecommerce is to have satisfied customers. That is why it is so important to pay attention to the customer's profile, his needs and the persuasive methods for his loyalty.
You can register at TeCOMM Cluj-Napoca on cluj.tecomm.ro, where you can see the updated list of speakers. Also, for early registration, the organizers have prepared discounts and special prices.
TeCOMM is Powered by Urgent Cargus.
Sponsors: Mastercard and Fan Courier.
About  Libero Events
Libero Eventsis the B2B and B2C events & PR agency. The events organized by us are     conferences and workshops: The Woman, HR Summit, TeCOMM, MarkDay, ARThitecture, Software Architecture Day, Digital Travel Forum, Cluj Sales Conference, Signal Connect, but also exhibitions: Touristica.
The events powered by Libero Events are based on professionalism and trust. That's why we believe in clients who become partners and in partners who become friends in the areas like: business woman, human resources, e-commerce, marketing, architecture, software, sales and entrepreneurship.