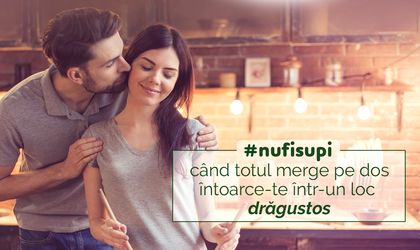 In its new social media and PR campaign, Bonduelle comes up with a warm approach for the cold days: lovable soups are telling you not to be upset and are changing your mood when online.
"We already know that us, Romanians, are almost all the time upset. It's true, we have reasons for being so. But it's good fitting to be reminded that life has also cozy parts. Therefore, the vegetable mixes for crème soup from Bonduelle assumed the role of lovable soups, spread their warmth and changed their recipes in order to include a new preparing step: a hug to the person cooking. And, just like that, a simple soup succeeded in bringing something new to the table," explained Olivia Spanu, senior copywriter FCB Bucharest.
The brand encouraged its social media fans to tell, using the hashtag #supi, if they had a sad day or they are not in the mood and the brand rewarded them with encouraging messages, alongside lovable kits. The message #nufisupi was transmitted also to the online influencers, both through kits that have "hug the chef" aprons, as well as personalized comments when they posted more about less pleasant experiences that they confronted themselves with. Moreover, the campaign was supported by four partner who shared recipes.
The campaign announces the new Bonduelle positioning, created by FCB Bucharest, under the headline "Inspiratie pentru viata" (Inspiration for life).
The teams responsible for the project are:
Team Bonduelle: Monica Dima – head of Marketing and Communications Balkans, Ukraine, Caucasus, Middle Asia, Catalina Carstea – trade marketing manager Balkans, Roxana Nanescu – brand manager Balkans, Diana Coleff – trade marketing Manager, Diana Bibina – marketing assistant.
Team FCB Bucharest: Claudiu Dobrita – creative director, Olivia Spanu – senior copywriter, Viorel Holovaci – senior art director, Miruna Anton – junior art director, Oana Nedelea – strategic planner, Mihaela Bivol – senior account manager, Anca Duta – senior account executive, Alina Stefan – PR director, Alexandra Carabusi – junior PR executive, Gabriela Pricob – production manager, Ionut Stan – production executive.
Romanita Oprea