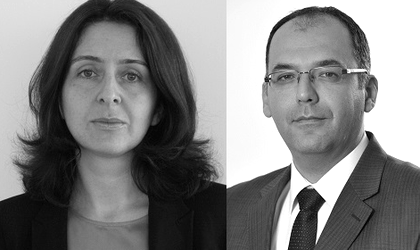 Felicia Gabriel and Burcin Atakan were appointed audit partners of EY Romania starting July, a company press release announces.
Felicia Gavrila joined EY in 2006 and was appointed executive director in 2013. Although having worked mainly in audit, she also covered projects in related services. Starting with the second half of 2014, Gavrila dedicated her work to specific sectors such as real estate and energy. In January 2015 she joined EY's regional work group for capital markets, at Central and Southeastern Europe level.
Burcin Atakan began his career with EY in 2007 as manager in the fraud investigation services department in Istanbul. He transferred to Bucharest in 2011 as leader of the local fraud investigation department, subsequently becoming managing director in 2012. Atakan has over 19 years of experience in this field and has held leading positions in Turkish financial institutions such as Halkbank and Pamukbank.
EY announced having promoted to partner 753 employees globally, an increase of 12 percent over 2014 and the highest rise since 2008. This year, EY has promoted a record number of women as partner, accounting for over 30 percent of all promotions carried out and representing an increase of 33 percent against 2014.
EY has 210,000 employees in over 700 offices in 150 countries and closed 2014 with a turnover of USD 27.4 billion (EUR 24.88 billion). In 2014 EY joined the only global competition dedicated to entrepreneurship, EY Entrepreneur of the Year. The local winner represents Romania at the world final which takes place every year in June in Monte Carlo.
Natalia Martian