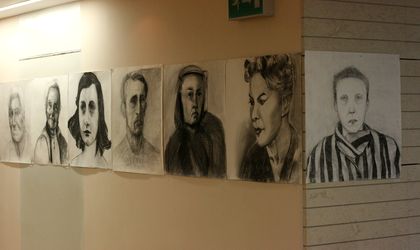 Besides the historical interpretation of what the Holocaust means, I believe that every human being associates the word with genocide, pain and suffering. Survivors of the tragedy are now advanced in years, but many take the opportunity to tell the story of their lives to whomever is interested.
To commemorate the local victims of the Holocaust, several students from the National University of Arts in Bucharest met some survivors and heard more about our recent national history. "We, the artists, respect diversity and beauty and promote peace by all our means. We promote love for others," said artist Andra Marisoiu, summing up the aim of the exhibition Witness and Testimonials (in Romanian, Martori si marturii).
Under this banner, 35 young artists decided to present their visions of this historical chapter. The most impressive works of art of the exhibition are charcoal portraits, most of them 70×70 cm, of characters actually looking at you, so somehow you can hear their story merely by looking at the painting.
"I wanted to illustrate the suffering and humiliation that women who boarding the frightening death trains endured, of whom few survived to tell their story. My character, drawn in charcoal, is a naked woman, symbolizing lack of dignity and full exposure without the possibility of salvation, which countless women suffered during the Holocaust," said artist Alexandra Chirita.
Other works show glimpses of a human face, but contours and shapes merge with the background, almost disappearing. This tells the viewer that individual drama will be ignored, covered by the almost white canvas, in the same way the horror of the Holocaust was covered up.
"One does not need to be a Jew to suffer discrimination; this can happen to anyone, anywhere. If you accept discrimination in your society and you think that it will not affect you, you can wake up one day and find yourself the discriminated party," commented Maria Oancea, another young artist, illustrating her vision with a photomontage.
The exhibition Witness and Testimonials had a preview during Bucharest Art Week, September 26 – October 4, and can be seen until October 17 at The National Library of Romania and was made in collaboration with The Elie Wiesel National Institute for Studying the Holocaust in Romania.
Photo courtesy of Razvan Anghelache
Oana Vasiliu