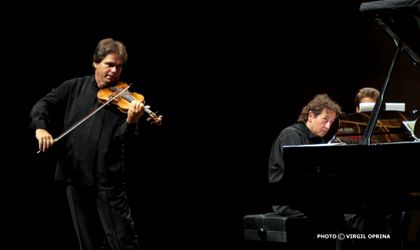 Romanian violinist Gabriel Croitoru, who received 2008 the Guarneri violin that belonged to George Enescu, which is included in the universal patrimony, will perform together with Romanian pianist Horia Mihail at the Radio Hall on Wednesday, October 15, from 7 pm. The violin that belonged to George Enescu is under the administration of George Enescu National Museum and was achieved by Croitoru after an international contest.
The two artists will perform the same concert that George Enescu himself staged in 1919 at the Romanian Athenaeum, interpreting Mozart, Beethoven and Lekeu together with three young national violinists, Mihail Ciprian Reuţ (Suceava), Maria Marica  (Cluj) and Mircea Dumitrescu (Bucharest). This "Enescu's violin" tour is at its third edition.
Tickets are available on www.bilete.ro , at the Romanian Postal Company offices, in the Inmedio shops labeled "Bilete.ro," in the Germanos retail chain and at the Radio Hall box office.
Oana Vasiliu