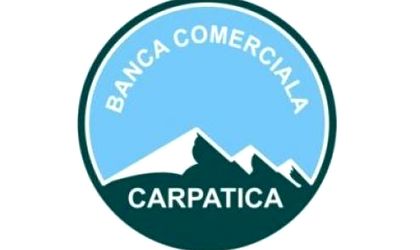 Banca Comerciala Carpatica (BCC) ended the first quarter on profit, with a result of approximately RON 0.65 million (EUR 0.15 million), compared to a loss of nearly RON 1 million (EUR 0.22 million) in the same period last year, while assets decreased by 0.4 percent, to about RON 3.24 billion (EUR 0.73 billion), the institution announced on Friday, according to Mediafax.
In the first three months of 2014, Sibiu's Carpatica bank reported a net loss of about RON 905,000 (EUR 203,393) and total assets of RON 4.08 billion (EUR 0.92 billion), which decreased with 20 percent by December to RON 3.25 billion (EUR 0.73 billion).
The financial assets available for sale of the credit institution controlled by Ilie Carabulea were kept at the same level since December, at 39 percent of the total balance sheet, according to the quarterly financial report.
The net balance of loans decreased by 1 percent compared to last year end, to RON 1.026 billion (EUR 0.23 billion), dynamic recorded also by the portfolio of attracted deposits, which was adjusted to RON 2.845 billion (EUR 0.64 billion), following the decrease in paid interest. The gross loans/deposits report decreased from 50.6 percent in December to 44.8 percent in March.
NPL ratio decreased annually from 39 percent to 30 percent, after cleaning the balance sheet in September last year and March this year, loans written off and fully provisioned amounting to RON 305 million (EUR 68.5 million).
Net operating income decreased by 4 percent, from RON 38.47 million (EUR 8.6 million) to RON 36.84 million (EUR 8.2 million). Net interest income decreased by 46 percent to RON 11.27 million (EUR 2.5 million), the commission income decreased by 13 percent to almost RON 5.37 million (EUR 1.2 million), yet the net trading income has appreciated by 18 percent to RON 3.19 million (EUR 0.72 million), and the financial assets available for sale increased three-fold to RON 10.33 million (EUR 2.3 million).
Operating expenses increased by 1 percent to RON 36.18 million (EUR 8.1 million).
Thus, gross profit went down 74 percent from RON 2.51 million (EUR 0.56 million) to RON 0.65 million (EUR 0.15 million).
Staff