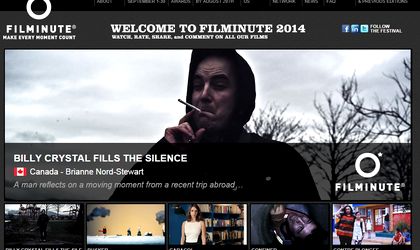 FILMINUTE presents an array of 25 films online for festival-goers around the world to enjoy, share, and discuss. The FILMINUTE winners and awards will be announced on October 9.
Until that happy moment, here are five 1-minute shorts that the Business Review editorial team watched and was delighted by. They say that a picture is worth a thousand words. A 1-minute short film can tell a story of 1,000 moments.
What do you think of our selection? Leave your comments below and maybe some of your very own favourites.
Grandpa (Portugal)
WRITER, DIRECTOR, EDITOR – André Marques
MUSIC – Noiserv "This Is Maybe The Place Where Trains Are Going To Sleep At Night" / SPECIAL THANKS – Maria José Correia, Renato Borges, Carla Galvão e Escola de Futebol Geração Benfica Olivais / PRODUCERS – Mário Patrocínio, Pedro Patrocínio, Joana de Verona e André Marques

Sky is mine (Afghanistan)
DIRECTOR – Fatema Hasani, Zainab Ahmadi / CAMERA – Aziz Deldar / EDITOR – Fatema Hasani / SOUND – Zainab Ahmadi / MUSIC – Ghafar Malek Nezhad
Talk to him (France)
DIRECTOR, CAMERA, EDITOR – Jan Rouiller / CAST – Jan Rouiller, Mickaël Sabah

Confined (USA)
WRITER, DIRECTOR, CAMERA, EDITOR– Tim Mattson / CAST – Cesar Gracia (construction worker), Dan Weiner (radio voice) / GRIPS – Randy Green, Michael Solis
Envol (France)
DIRECTOR, D.O.P, EDITOR – Yvonnick Muller / SCENARIO – Yvonnick Muller , Lauriane Escaffre / CAST – Margot Massa, Yvonnick Muller / MUSIC – Lucas Grolleau