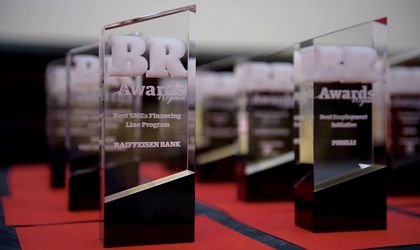 10 Business Review Awards editions, over 600 nominees and over 120 trophies awarded. Business Review magazine celebrated on Monday, March 2nd, at Radisson Blu, excellence in business.
Over 220 leaders of the local business community attended on Monday, March 2nd, the 10 years anniversary Gala of Business Review Awards. Since 2006, Business Review magazine awarded the most important achievements of the business environment, innovation and the entrepreneurial spirit.
"Excellence is not about numbers and achieving certain objectives. I think excellence is about delivering value to people," said Iulian Stanciu, eMAG.
From greening their business to training the next generation of entrepreneurs, from funding SMEs to bringing an ailing company back from the brink, some players on the local market defied the tough trading conditions to shine in 2014.
14 trophies have been awarded in 13 categories to over 40 nominated companies. This year we have introduced a special type of award, which recognizes those individuals who have demonstrated outstanding and inspirational leadership, integrity and unselfish service, making significant contributions for the community – the honorary recognition award.
The winners of 2015 Business Review Awards are:
Sustainable Business Practices – Skanska Property Romania
Online Strategy for Business Development – Mega Image
Innovation in Technology – Softronic
Best Start-up Supporter – Impact Hub Bucharest
Best SME's Financing Line Program – Raiffeisen Bank
Honorary Recognition Award: Social Entrepreneur of the Year – Ionut Patrahau, Brain Institute
Best Micro-financing Program – Good.bee Credit IFN
Best Turnaround Performance – Cemacon
Honorary Recognition Award for Outstanding Leadership – Steven van Groningen
Best Employment Initiative – Pirelli
Entrepreneur of the Year – Andrei Dunca, LiveRail
Deal of the Year – Electrica IPO
Business Leader of the Year – Nicolas Maure, Dacia
Excellence in Business – Dacia
"It's a real pleasure to be again on this podium. I'm particularly pleased for getting the award for SMEs financing. Thank you very much and I hope we will have in the future more and more companies to get financing for getting up Romania's economy," said Steven van Groningen, President of Raiffeisen Bank.
"This award marks 15 years of hard work, of investment, now Dacia has 3 percent of the European market. We have to thank our partners, our people and the press for making this thing viewed, so thank you, Business Review,"" said Anca Oreviceanu, Communication Director at Dacia and Grup Renault Romania when receiving the award for excellence in business.
BR team